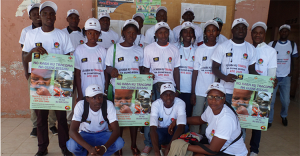 Battling an infectious eye disease like trachoma isn't just about handing out medication or referring people for surgery.
There's a lot of work done before treatment starts: often, people don't realise their eye problems are treatable, so spreading the word to remote areas is a real challenge. Even when people find out there's medication available, many are suspicious of what unfamiliar treatment might do. And a key part of preventing diseases like trachoma is promoting good hygiene practice, so educating communities about the connection between hygiene and infection is vital. The work Sightsavers carries out with partners in Guinea-Bissau perfectly highlights some innovative approaches to these aspects of trachoma prevention and treatment.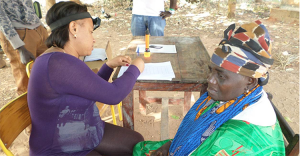 Guinea-Bissau is one of the poorest countries in the world, rated at 176 out of 187 countries on the UN's Human Development Index. 69% of the population lives below the poverty line.* The impact of diseases like trachoma can be devastating in developing countries, preventing people from working and trapping them further in cycles of poverty. But we're making progress towards a future where this won't be an issue – with every year, we're getting closer to elimination of the disease. Here's how we're doing it…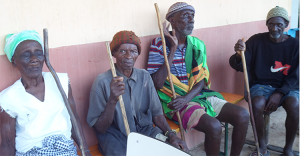 Getting the message to the people
According to a UNESCO profile of Guinea-Bissau, although the country has made huge strides towards universal primary education since 2000, adult literacy rates are still low (just over 55 per cent)*. When there's an eye health screening, distribution of treatment or information to be shared about trachoma and how to prevent it, it can be difficult to let people know as posters put up in communities are of little use if you can't read. To combat this, our partners in Guinea Bissau have had to get creative.
Radio: Weekly programmes on two popular national radio stations have been a really successful way of reaching thousands of people. Listeners are able to phone in and have their concerns about the safety of treatment answered.
Drama performances: Local drama group performances have also been an effective way of spreading the word. The community plays, many of which include performers with disabilities (promoting disability inclusion in the trachoma project), reinforce the messages put out by the radio programmes and are conducted in local languages. Post-performance discussions are held and prizes given to encourage participation.
Training community members to get the word out: Training's been held for teachers, journalists and community volunteers to spread the word, raising awareness about trachoma and encouraging people to seek eye care. An estimated 700,000 people have been reached with important information about trachoma because of these measures.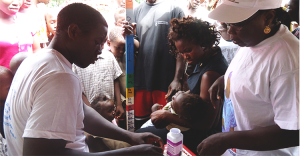 A starring role for the humble loo
One of the most important parts of educating people about preventing trachoma is emphasising the importance of water, sanitation and hygiene (known as the WASH strategy). In endemic areas, the construction of latrines is vital in helping achieve elimination, and last year the trachoma project's targets of building 15 latrines and restoring 15 water points were exceeded! The latrines have been built in schools and community-chosen locations, and local people have been given training and formed water management committees.
The trachoma project is having a huge impact and changing the lives of individuals, families, and whole communities. We're excited to know that just a few years from now, we could be celebrating the elimination of trachoma from Guinea Bissau!
Sightsavers is grateful for to the Isle of Man International Development Committee for generously supporting the Guinea Bissau trachoma elimination project from 2013-2015.
*Sources for statistics: UNESCO country guide: Guinea Bissau and UNICEF Guinea Bissau information