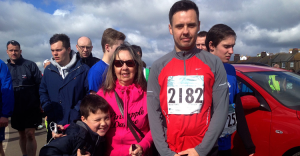 Update: Our places in the London Marathon are now all booked up! But there's still plenty you can do to get involved… Find out more
Daniel Cooper is running the London Marathon for Sightsavers, and he wants you to join him – but there's only six days left to sign up.
Daniel, who's 24 and lives in Peckham in London, signed up to raise funds for Sightsavers after his mother lost the sight in her left eye. "After a lot of hardship while we tried to get the right treatment, she finally received a cornea transplant on the NHS," he says. "I was so amazed that all of this treatment was free and I wanted to do something for those not as fortunate as my mum, which is how I came across Sightsavers."
Daniel is already well into his training for the marathon, which is on 26 April, and one of his friends who's also a personal trainer is running with him. "It's good to have someone else to push you and guide you," he says. "I hope I can encourage others to sign up and help save more sight."
Sightsavers' Director of Individual Giving, Becki Jupp, says: "Running a marathon is no easy feat but raising money for charity is a great reason to dust off your trainers and get moving."
The sign-up deadline is 6 February – if you fancy joining Daniel in getting fitter, taking on a challenge and transforming life for people in some of the world's poorest countries, drop our fundraising team a line at [email protected] and they'll help you tick one more item off your bucket list!