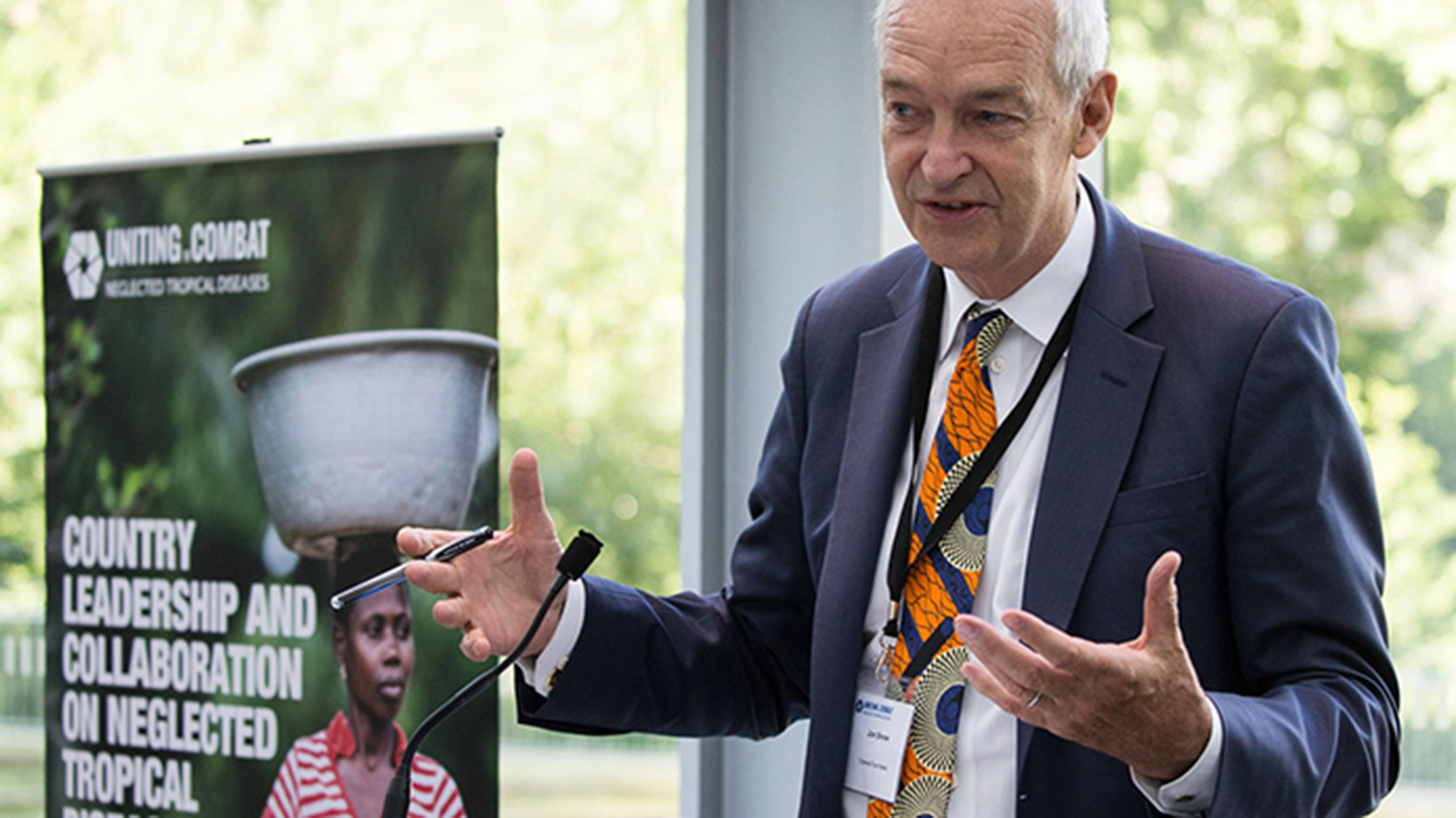 A report released by the Uniting to Combat NTDs coalition benefits of investing in programmes treating neglected tropical diseases (NTDs), calling it "one of the best buys in development".
Country ownership and collaboration on NTDs was published this morning with a panel discussion webcast live from the Natural History Museum in London, moderated by Channel 4's Jon Snow. The report finds that countries are increasingly taking ownership of NTD programmes and are pursuing innovative approaches to combating the diseases, and adds that further scale-up is necessary to meet global targets for 2020 set by the World Health Organization.
The publication is the third progress report since a diverse public-private coalition of partners, including Sightsavers, endorsed the 2012 London Declaration on NTDs, committing to achieve the WHO 2020 targets for 10 NTDs.
NTDs keep children out of school, parents out of work and cause stunting and impaired brain development, locking societies into endless cycles of poverty. But according to the report, if the WHO targets are met, healthier citizens would generate an estimated US$623 billion (approximately £395 billion) in increased productivity between 2015 and 2030.
Simon Bush, Sightsavers Director of NTDs, said: "Sightsavers is delighted to see the strong emphasis that this new report places on collaboration and partnership in the fight to end NTDs as public health threats in endemic countries. The key call to action now needs to be about speeding up the scale-up of programmes. We have the drugs needed to cover most of the need, ensuring these reach those in the communities where the risk of disease is prevalent is essential. The Ministries of Health have demonstrated ownership of the issue through the development of NTD master plans. It's now vital that they bring the right partners to deliver these programmes on the ground, and make a true impact in people's lives."
Dr. Dirk Engels, WHO Director of the Department of Control of Neglected Tropical Diseases, said: "It is encouraging to see increased state-level engagement and strong leadership towards ownership of national control programmes. Sustained political commitment, innovative domestic financing and greater coordination can bring about game-changing treatments and care to millions of people and improve the prospects of achieving WHO's goal of universal health coverage against NTDs."
Watch the launch of the Uniting to Combat NTDs third progress report
Storify: follow the launch of the Uniting to Combat NTDs third progress report
[View the story "Country leadership and collaboration on #NTDProgress" on Storify]