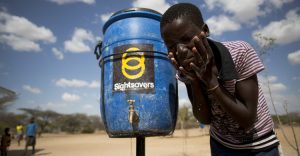 The World Health Organization has unveiled a global plan to better integrate water, sanitation and hygiene (WASH) services with four other public health interventions to speed up progress in eliminating and eradicating neglected tropical diseases (NTDs) by 2020.
The action plan against NTDs – including intestinal worms, blinding trachoma, schistosomiasis and others – calls for better integration with local and national programmes delivering clean water, good sanitation and hygiene promotion.
The plan aims to reduce infections, improve treatment and address the inequalities and stigma that people suffering from these illnesses often face.
Neglected tropical diseases affect more than one billion people. Sometimes fatal, they also cause excruciating pain, disfigurement and chronic disability, primarily among the world's poorest people. They are most prevalent in remote rural areas, urban slums and in conflict zones.
People living in these areas frequently lack access to even the most basic water, sanitation and hygiene services. More than 650 million people don't have access to clean water and more than 2.3 billion don't have access to a basic, safe toilet.
Geordie Woods, Sightsavers' Behaviour Change and Communication Advisor, says: "Improved access to safe water and adequate sanitation, and the implementation of good hygiene practices such as hand and face washing, are essential for prevention and control of NTDs such as trachoma and onchocerciasis (river blindness). With the increasing pressure on government and aid resources, it is critical that integrated approaches are implemented to deliver better value for money and, more crucially, sustainable, long term impact."
This new strategy comes just one month before UN member-states are expected to finalise a set of new goals on sustainable development in New York. The SDGs aim to eradicate extreme poverty and create a fairer, more sustainable world; delivering access to clean water, basic toilets and good hygiene to everyone everywhere by 2030 is among the 17 proposed goals. But goals on health, education and gender equality will be made more effective if water, sanitation and hygiene are also factored into measures of progress.