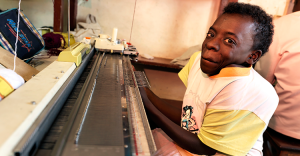 Today is the day people around the world focus on promoting the dignity, rights and wellbeing of people with disabilities. And Sightsavers is doing plenty to celebrate it. Here's a roundup of our activity worldwide.
Uganda
Sightsavers is part of a government-led working group that was set up to plan activities to mark the day, including:
a discussion with development partners, representatives of disabled people's organisations and the UN on the inclusion of people with disabilities in the Sustainable Development Goals.
a meeting for the Forum for Youth with Disabilities with the national political leadership to discuss issues affecting them.
a meeting with civil society organisations to discuss the need to mainstream disability in their programmes.
speeches led by the minister of the government's Gender, Labour and Social Development department.
an exhibition featuring work from a Sightsavers- and EU-funded employment project for youth with disabilities.
a Sightsavers-funded eye camp.
India
Our India team held an exhibition at the British Council in Delhi of photographs taken by – and of – people with visual impairments, called The Blind View. It aimed to educate audiences about the abilities and challenges faced by blind people.
Sierra Leone
In Sierra Leone, Sightsavers is working with the National Commission for People with Disabilities to facilitate a children's conference and organise the International Day of People with Disabilities celebrations in the country.
Zambia
An exhibition is being held at the Zambia office of the UK Department for International Development, with a speaker from the disability movement talking about challenges that people with disabilities face. There were also exercises to share the experience of being blind and a 'game of life' with volunteers making decisions for their children based around disability issues.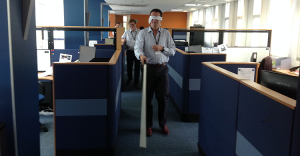 Pakistan
Sightsavers Pakistan is attending a policy dialogue entitled 'Towards a disability-inclusive post-2015 development framework: Pakistan Perspective'. The discussion is organised by Sightsavers, STEP (Strengthening Teacher Education in Pakistan) and NFWWD (National Forum of Women with Disabilities) in collaboration with the Ministry of Law, Justice and Human Rights, and the Embassy of the United States in Islamabad.
The policy dialogue brings together leaders of people with disabilities, development experts and decisionmakers to initiate a process of inclusion for people with disabilities who are uncounted and unheard citizens of the country. It will see policy recommendations made for effective and inclusive implementation of the international commitments of Pakistan.
Bangladesh
An event was held in partnership between the National Forum of Organizations Working with the Disabled (NFOWD), Bangladesh Visually Impaired Peoples Society (BVIPS) and the government. Guests included H.E. Sheikh Hasina, the Prime Minister of Bangladesh. During a speech at the event, Saidul Huq, President of the Executive Council of both NFOWD and BVIPS, demanded inclusion and representation of people with disabilities in all planning and decisionmaking forums and committees, from the grass roots up to government level.
Sightsavers' partner Assistance for Blind Children (ABC), joining with the district administration, organised a rally for people with disabilities and government officials. This included a discussion session to raise awareness around disability and advocate for establishing rights and increasing participation of people with disabilities. A petition with about 25,000 signatures was submitted locally, demanding inclusion of people with disabilities in all planning and decisionmaking bodies.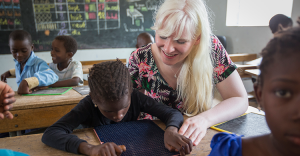 Ireland
Sightsavers in Ireland is launching The Power of Perception, a public awareness campaign aimed at highlighting the challenges that people with disabilities face in developing countries. A giant screen in Meeting House Square will be used to share photos and stories from Paralympic champion skier Kelly Gallagher's recent trip to Senegal to see a Sightsavers-supported inclusive education project.
UK
In the UK, today marks two years since the launch of Put Us in the Picture, our campaign calling for disability-inclusive development. The campaign began with an aim to get the UK government to make a firm commitment to prioritising people with disabilities in its development work, and this was achieved with the release of a Disability Framework published by the Department for International Development in December 2014. Put Us in the Picture is now casting its net wider and calling for the international community to ensure that commitments agreed by world leaders this year will be properly implemented and lead to lasting change for people with disabilities in developing countries.
UK activity to mark the day includes:
An update from the Department for International Development on the progress of the Disability Framework since its launch a year ago.
Sightsavers' UK team participating in a BOND disability matters Twitter chathosted by BOND and Thomson Reuters Foundation (you can see the discussion here: #ADay4all).
A seminar discussing low cost options for implementing disability-inclusive development
The first meeting of the Global Action for Disability (GLAD) Group, which will play a vital role in bringing together international donors with the objective of ensuring that public and private sector organisation from around the world are more joined up on their work on disability.