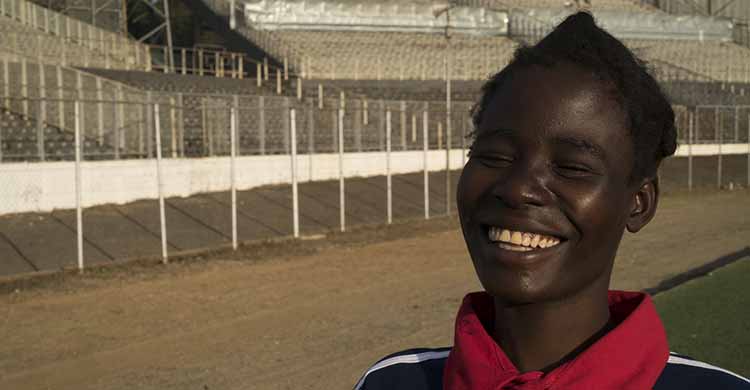 When Taonere Banda returns to Malawi from the Rio Paralympics today, she will be returning as a history-maker and an inspiration.
Taonere is a 20-year-old middle distance runner who competed at the 2016 Paralympic Games in Brazil last week in the women's 1500 metres event, in the T13 category for people with visual impairments.
Despite a strong start, Taonere didn't make it through to the race final. But as Malawi's first-ever Paralympic athlete, she is an inspiration to other people with disabilities by proving that disability is no barrier to fulfilling potential.
Funding from the International Paralympics Committee, the Malawian government and Sightsavers helped meet the costs of an intensive training camp for Taonere, her coach and two fellow athletes in the months before the Paralympic Games.
Roy Hauya, Director of Sightsavers' Malawi Country Office, said: "Taonere has made history by becoming the first Malawian to represent her country at the Rio Paralympic Games in Rio, and Sightsavers is extremely proud to be supporting her.
"She has worked incredibly hard to train and compete at this outstanding international level in Brazil, and I'm sure the whole of Malawi joins us in congratulating her and the team's efforts.
"Taonere competed with the world's best Paralympic athletes in the qualifying race on Thursday, despite never having trained on a track surface like the one in Rio. Although Taonere didn't qualify for the final, she can be extremely proud of herself for leading the race for so long and giving everything she had on the world's biggest athletic stage.
"The team has learned a lot from being in the Rio Paralympics, and Taonere's involvement in the Games has undoubtedly helped them to make important connections and relationships, paving the way for other Malawian athletes to compete at Paralympic level in the future. Taonere is also a huge inspiration to other young people in her community and across Malawi, showing that people with disabilities can achieve great things with the right support."