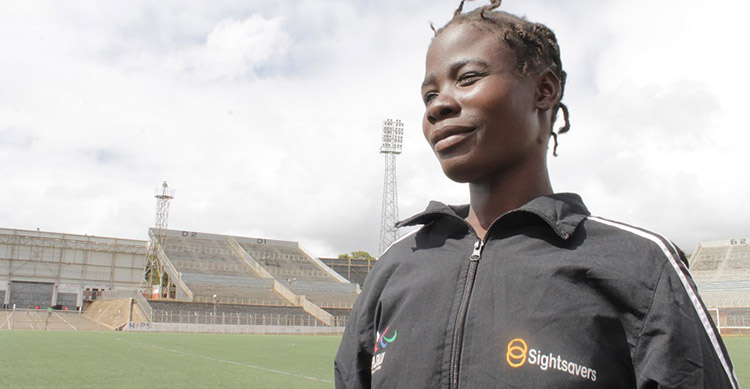 Sightsavers-supported Paralympic hopeful Taonere Banda has touched down safely in Rio ahead of the opening ceremony.
Taonere, who is visually impaired and is Malawi's first Paralympic athlete, will compete in the women's 1500m event in the T13 category. Her first heat is on Thursday 8 September at 3.30pm UK time, with the final on Saturday 10 September at 3.13pm UK time.
Taonere and coach George Luhanga have been able to attend thanks to funding from the International Paralympics Committee, the Malawian government and Sightsavers supporters, who helped meet the costs of an intensive training camp in the run-up to the Paralympic Games.
Talking about her 6,000-mile journey from Malawi to Brazil – her first plane journey – 20-year-old Taonere said: "I'm at a loss for words; I find the whole thing as if a dream I cannot wake up from. I wish many of my friends, colleagues and fellow athletes in Malawi had been able to come with me.
"I am really happy to be able to meet and talk to fellow athletes from all over the world. I never understood the magnitude of the event until I arrived in Rio and met people of all races."
Taonere's coach George is sending regular updates – find out more about how Taonere is getting on by visiting our Paralympics page and following Sightsavers on Twitter, Facebook and Instagram. You can also see her journey to Rio in this photo story.
Don't forget to share, retweet, react and comment to show your support.
Watch Taonere carry the Malawi flag in Channel 4's coverage of the opening ceremony – she features at 1:44:30.
The power of inclusion
The Paralympics demonstrates the powerful impact that people living with disabilities can make when they're included – Sightsavers' Put Us in the Picture campaign calls for the inclusion of people with disabilities in all areas of life, particularly in the world's poorest countries. Find out more and join the campaign.