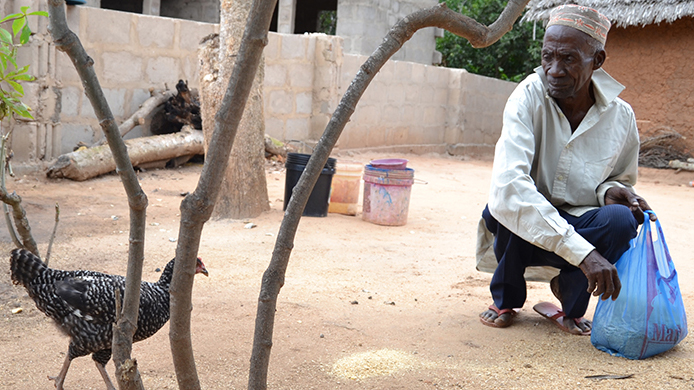 A report reveals that older people and those with disabilities in Tanzania face discrimination when accessing education and health services.
It also shows they are more likely to suffer sexual violence, marriage break-up and poor treatment from their family.
The report, Disability and old age are not a curse, was launched by Sightsavers, ADD International and HelpAge International in partnership with the Ifakara Health Institute. It highlights that discrimination around old age and disability is creating serious health and safety risks for individuals and their families.
The report's findings caught the attention of Tanzania Deputy Minister Dr Abdallah Saleh Possi, who is scheduled to formally address guests at the launch event in Dar es Salaam.
"Disability and old age are issues that concern all Tanzanians. As the report makes clear, people with disabilities and older people have an active role to play in all spheres of society," said Sightsavers Tanzania Country Director Gosbert Katunzi. "This report highlights some of the ways their experiences can shape and lead policy-making."
The researchers, who themselves have a disability or are over the age of 60, carried out the research together with the organisations working directly on these issues. This approach is designed to break down the divide between researchers and participants, enabling participants to open up and ensure their voices are heard.
"This report offers new insights into the realities for people with disabilities and older people in Tanzania – for example, the problems that deaf people face in accessing healthcare," said Shabani Abeid of ADD International. "This evidence comes at a crucial time, as the government of Tanzania begins implementing its response to the Sustainable Development Goals, and we look forward to working in partnership to ensure that no-one is left behind."
As well as providing evidence from the perspective of older people and people with disabilities in Tanzania, the study aims to strengthen efforts to deliver services and improve the lives of people living in Nachingwea and the Kibaha Urban Municipal Council.
"This report highlights the need for policy makers, traditional and community leaders, law enforcement bodies, legislators and the wider society to recognise the human rights of older people and those living with disability," said HelpAge International Country Director Amleset Tewodros. "People should not be discriminated against because of physical conditions or advanced age."