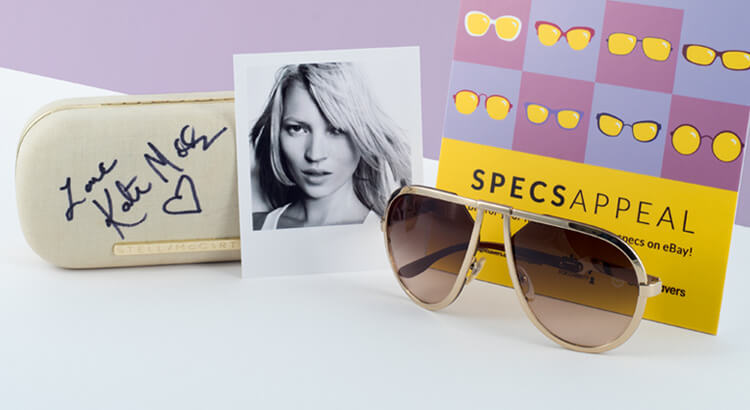 If you've ever dreamed of owning something belonging to your favourite celebrity, next week you could be in luck.
Sightsavers is launching Specs Appeal 2016, a celebrity eBay auction stocked with more than 100 pairs of glasses and sunglasses donated by famous faces.
Among more than 50 celebrities involved are actress Meryl Streep, Beatle Ringo Starr, pop sensations Will.i.am and Rita Ora, Harry Potter stars Daniel Radcliffe, Emma Watson and Robbie Coltrane and style icons Kate Moss (pictured) and Vivienne Westwood, with shoppers having the chance to bag a unique Christmas present for a loved one – or for themselves.
The Specs Appeal 2016 auctions are taking place on eBay from Friday 25 November until Monday 5 December.
How the auction will help
All funds raised will help Sightsavers carry out eye tests in some of the world's poorest places, and distribute specs to those who need them.
Sightsavers ambassador and actress Sunetra Sarker has given a pair of glasses and has also seen the work of Sightsavers in India. She says: "I'm supporting Sightsavers because if it can help just one person to see again, it's worth it."
Sir Tony Robinson, who has donated a pair of reading glasses, says: "I want to give someone a chance to see more clearly and look as cool in my glasses as I did."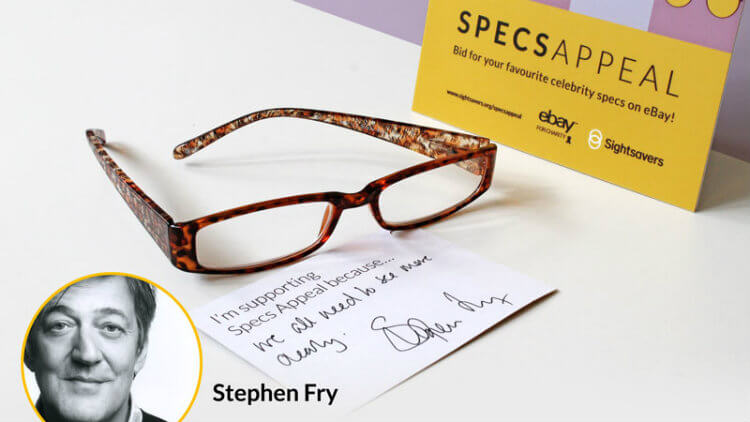 Stephen Fry's iconic tortoiseshell glasses came with a note saying "We all need to see more clearly."
He's right. Worldwide, there are an estimated 124 million people who need glasses. In developing countries where the problem is most acute, it can be a challenge for people to get their eyes tested or buy a pair of glasses. Often this is due to there being too few ophthalmologists, not enough equipment or the fact that people simply can't afford prescription lenses. Not having glasses effectively renders people blind or visually impaired. This affects their livelihoods, families, schooling and quality of life.
To learn more about the Sightsavers eBay auction, visit the Specs Appeal page. Alternatively, set yourself an eBay reminder.