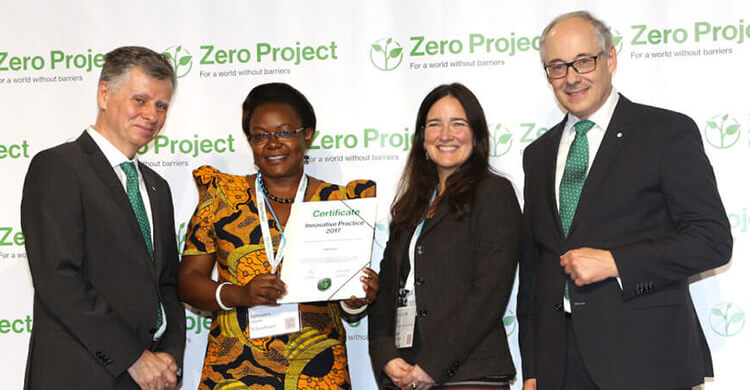 A Sightsavers economic empowerment project that supports young people with disabilities in Uganda to find jobs has won an award for its impact, innovation and scalability.
The award was presented by the Zero Project at an event at the United Nations Headquarters in Vienna.
In the past four years, the Connecting the Dots project has helped hundreds of young people with disabilities complete vocational training. The skills they have acquired range from retail, knitting and leather work to mechanics, IT and catering. Students are also supported to take on internships, gain employment and develop advocacy skills.
The award was based on a selection process organised by the Zero Project, an initiative of the Essl Foundation, which tackles the problems that people with disabilities face by sharing the most innovative and effective solutions.
The process of deciding which projects would win the award included more than 1,000 experts with and without disabilities from all over the world. They based their selection on the innovation, impact and scalability of the programmes.
A total of 56 practices and 11 policies were finally selected this year.
The 'Innovative Policy/Practice 2017 on Employment, Work and Vocational Education and Training' award was presented to Sightsavers' Edith Kagoya by Martin Essl, Founder of the Zero Project as well as by Jakob von Uexküll, Partner of the Zero Project and Founder of the World Future Council.
Connecting the Dots has also been included in the Zero Project Report 2017.