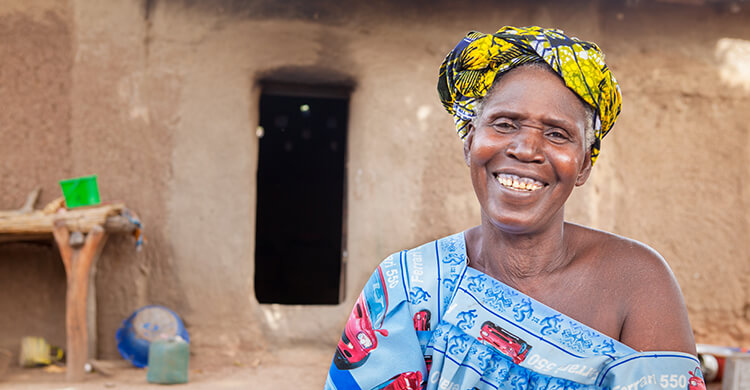 On International Women's Day, Sightsavers is asking its supporters to #BeBoldForChange for people with blindness and disability.
It is estimated that one in five women worldwide has a disability, and that two thirds of blind people are female. Women are also up to four times more likely to be blinded by the neglected tropical disease trachoma.
Here are a few of the ways you can help us mark International Women's Day and work towards a more inclusive, gender-equal world for women and girls around the globe.
Campaign for global disability inclusion
One in five women worldwide, or 19.2 per cent, have a disability, compared with one in eight men (12 per cent). In lower-income countries this difference is even more pronounced, with women making up three quarters of all people with disabilities.
These women often face double, if not triple, discrimination: for having a disability, for being female and for living in poverty.
Help us ensure that world leaders keep their promise to leave no one behind by campaigning for inclusion for all.
Help us fight diseases of poverty
More than 21 million people are currently infected with trachoma – a neglected tropical disease that has long been eradicated in higher-income countries. But for millions of people in developing countries, it's still causing pain and blindness.
Trachoma affects a disproportionate number of women as the main caregivers, but it can be easily prevented with a tablet that costs 35p to distribute. Surgery to treat trichiasis (advanced trachoma) costs about £8.
We want to eliminate trachoma in the areas in which we work by 2020 – and you can help us do it by making a donation.
Celebrate inspirational women with us
We're celebrating inspirational women and girls around the world, and you can join us. Get involved by sharing our stories on Twitter, Facebook, Medium and Instagram.
We'd also love to hear about women you've met who you find inspirational. Use the tags #BeBoldForChange and #Sightsavers to share with us. You can also follow our Women's Day celebrations on social media via Storify.