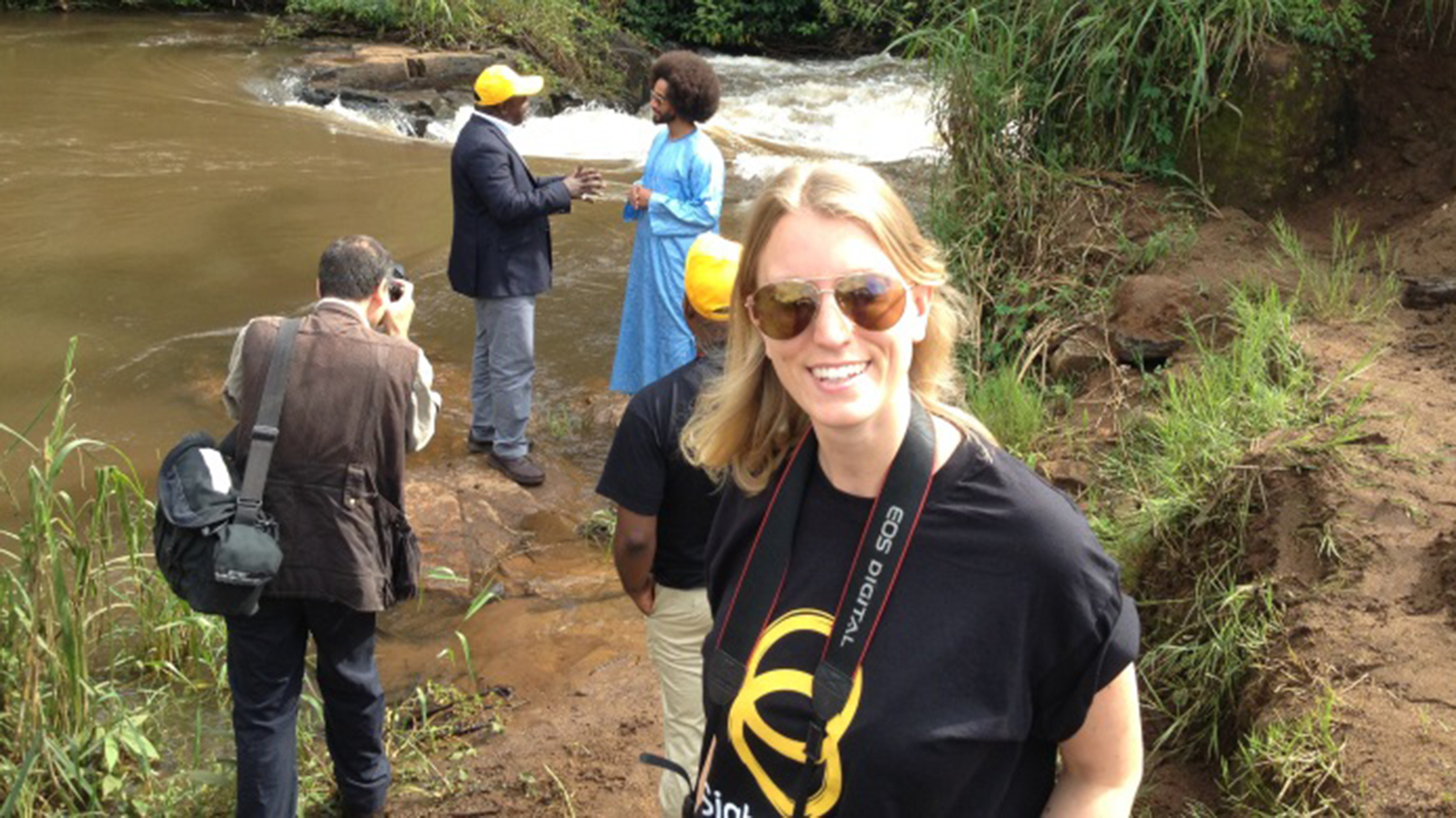 Saturday 6 July
Stepping off the plane and into Yaoundé airport on Saturday evening, the first thing that strikes me (and probably everyone else as it's hard to ignore) is the crowd that gathers around our special guest, Spurs and Cameroon footballer Benoit Assou-Ekotto. We are bustled through the crowds of men banging on Benoit's car, chanting his name and getting incredibly excited at the sight of one of their footballing heroes. It is hot in Yaoundé (the capital of Cameroon) and we're all tired from the long flight, so the cool air of the car is very welcome.
We've come here to mark a very exciting milestone in the fight against river blindness – distribution of the 250 millionth Mectizan® treatment.
Sunday 7 July
We get up early and depart for Bamenda in the north west of Cameroon. Many local people are up early exercising on the hill – walking or running up it, or gathered doing group exercises. It's rainy season in Cameroon at the moment, everything as far as the eye can see is green and the air is cool. The drive takes around six hours. On the way, we cross over the river Sanaga – a large river serving four districts of Cameroon and the main breeding ground for the black flies that spread river blindness – the disease we are here to learn about.
About halfway we stop off for a break at a market in Makanene. The smell of barbecue smoke and the heat of the sun hits us as we get out of the car. Children approach us to try and sell tissues, carrier bags, chewing tobacco and other useful items. While we're there we take the opportunity to sample some street foods; we have plantain – a type of barbequed banana, and African plum (or bush butter) which looks like avocado but tastes like courgette.
At about 2pm we arrive in Bamenda, from where we continue to the Bali community just 20 minutes down the road. The difference in roads and homes in Bali compared to Bamenda is immediately obvious. There are no sealed roads, and as it's the rainy season, there's a thick layer of sticky, clay-like mud that even the 4x4s struggle to drive on. As we follow the stream along the road and pass many homes, it's clear why this community is at such high risk of contracting river blindness. This is a lot more the Africa I recognise from photos and films.
We pull over. A group of children are playing in the river, scooping up water in bottles and spraying it at one another, and a woman washes her clothes in a plastic bowl in the shallow pools. Avoiding the river, for the people of this village, isn't an option. It is part of their everyday lives and they rely on it.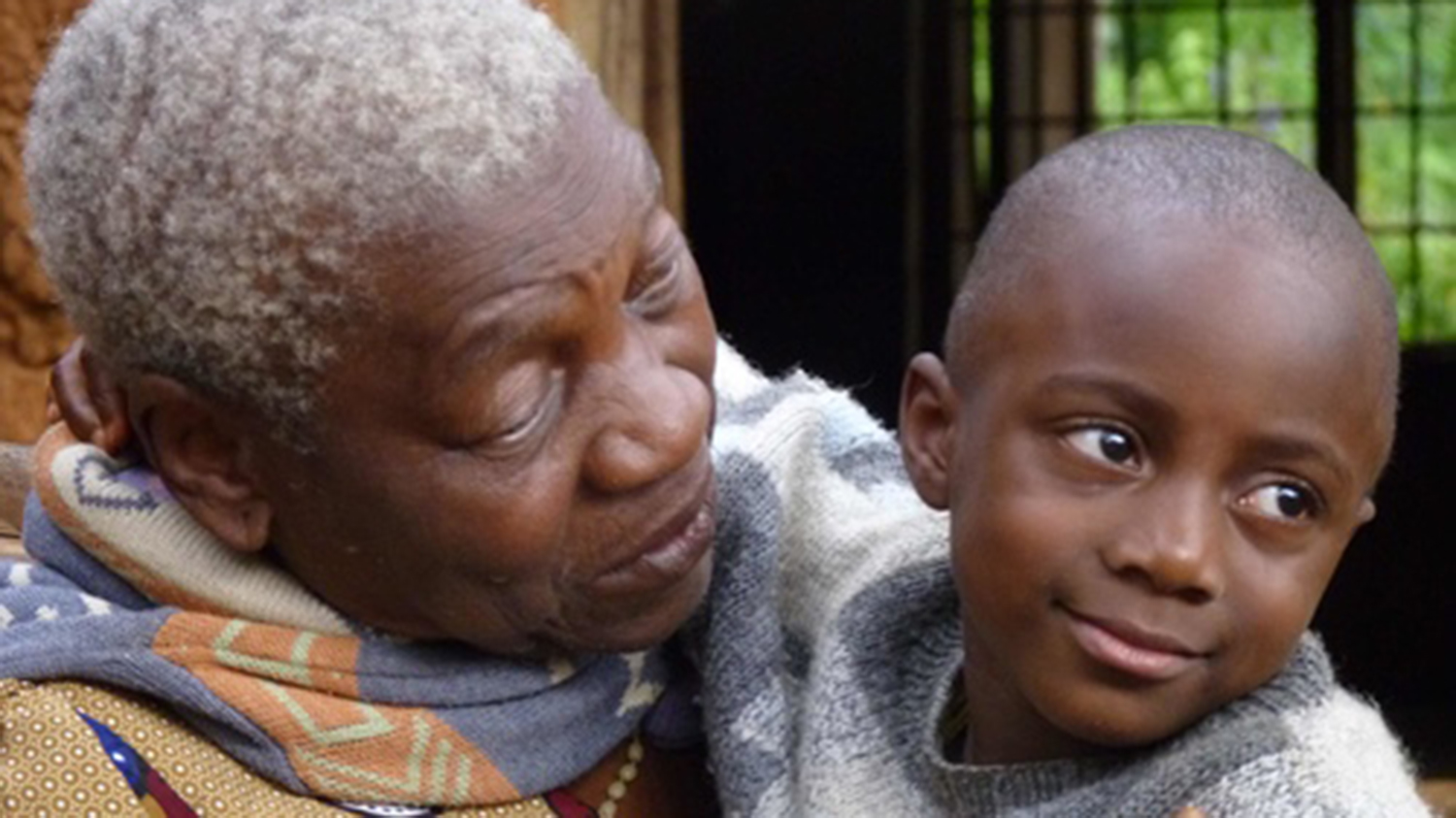 Our first home visit is to the family of Julianna, a 77-year-old grandmother who lost her sight to river blindness 16 years ago. Julianna lives in a simple home with one main basic living area and a separate kitchen and bedrooms, along with her son Buma George Gwananji, his wife Janet and their children Nahbila, who's six, and 18-year-old Nadine.
The family come outside to greet us. Nahbila isn't shy or intimidated by so many people, but smilingly poses for photos, hands on hips. In contrast, her grandmother Julianna is frustrated and resigned to living with the effects of river blindness, and it's upsetting to see her unhappiness. She tells us she has been sick for 20 years and that for all that time she has been in pain, with the most excruciating itching all over her body. As she shows us her discoloured skin and says she wishes she was dead so she wouldn't suffer like this, it's hard to stop the tears forming in my eyes.
Although it's a very sad story, the silver lining is evident when Julianna tells us how grateful she is that her children and grandchildren have the opportunity to take Mectizan® tomorrow and each year, to prevent them from the pain she's had to endure.
Monday 8 July
Today we have another early start and we're joined by Benoit. As we arrive in Bali, a crowd of local lads forms around the car in an instant. We take Benoit to meet with Julianna and Nahbila, and he sits and talks with them in the family home. Afterwards, the family join us on the short ride to the Fon's Palace grandstand – a large open area with a stage, where already hundreds of people have gathered. Local dance groups in colourful costumes take it in turns to entertain the crowd with impressive routines to fast drumbeats. One group performs a play depicting two families – one that takes Mectizan® and another that refuses – and the ensuing results. It's interesting to see the various ways in which the importance of Mectizan® is communicated in an area of the world where literacy rates aren't very high and few households own televisions.
The Lord Mayor of Bali Council makes a speech praising the community distribution volunteers, and promises that the district will give its full support to the volunteers and find a way to reward them for their commitment in place of monetary payment, which was met by cheers from the crowd. It's clear how much the community respect and love the distributors who come to their homes each year.
After the speeches, dances and singing, the big moment arrives. Nahbila and Benoit are called to the stage where journalists and camera crews surround them, jostling to capture the moment Benoit administers the 250 millionth treatment for river blindness to the little girl from the village down the road.
It's an amazing moment. To celebrate, all the dance and music groups play their instruments and take to the dancefloor at the same time. The music is deafening and the atmosphere's electric.
Tuesday 9 July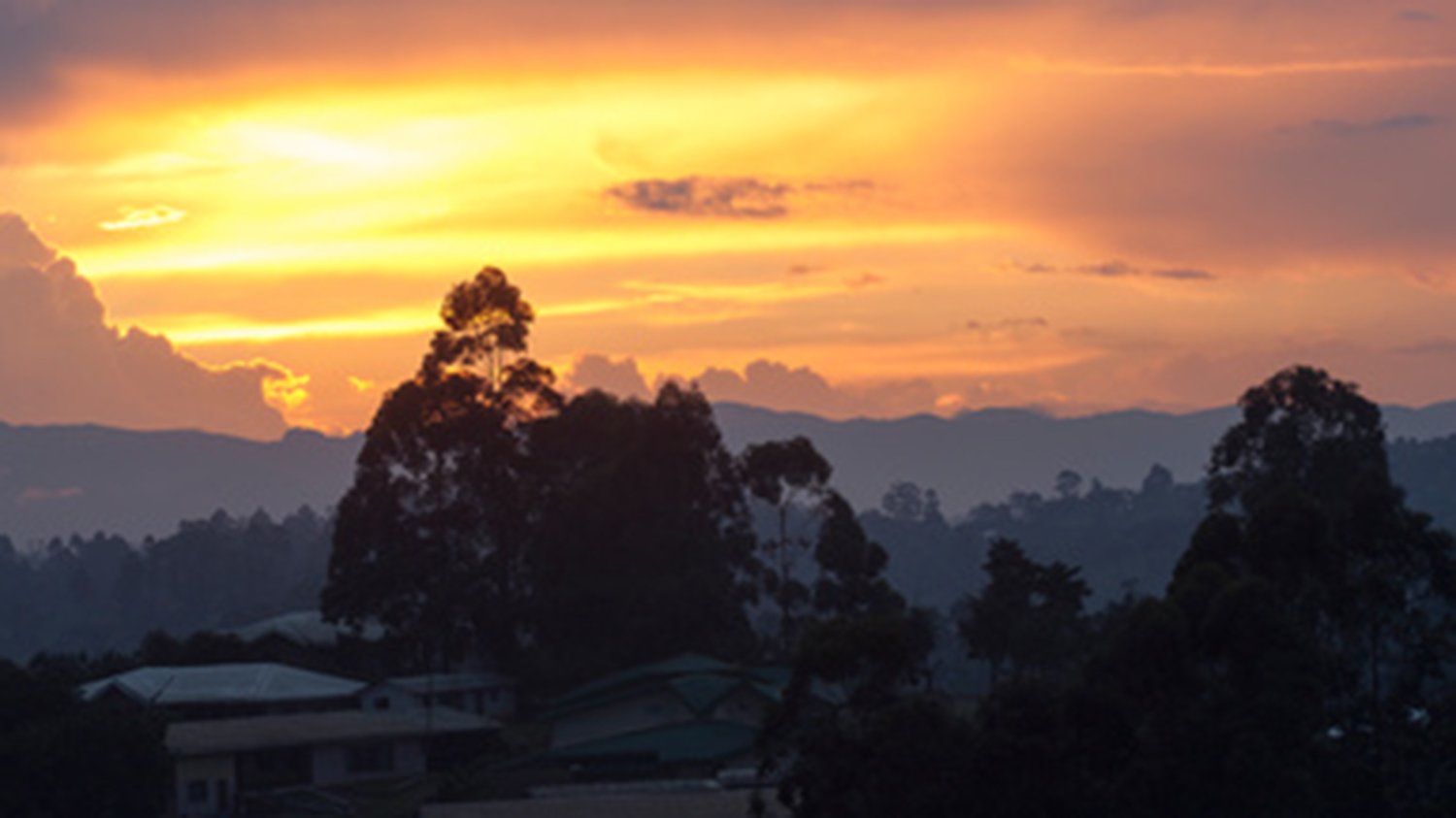 Today is our last day in Cameroon. After breakfast we say goodbye to the amazing team here who have so wonderfully organised this trip for us, and head back to the capital. Dr Joseph Oye, Director of Sightsavers' Cameroon Country Office, takes us to meet with Dr Charlotte Ndiaye, the World Heath Organization representative to Cameroon, and we tell her about yesterday's event and what it means to Sightsavers in our fight to eliminate river blindness from Africa.
Then it's time to say thanks and farewell to Benoit (who's off to Tanzania) and begin the long journey home. It's been four hectic and emotional days, and I feel privileged to have been a part of it.