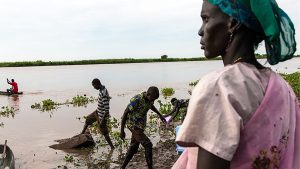 Earlier this week we witnessed the final evidence session of the International Development Select Committee's inquiry into disability and development.
The committee heard from the Development Minister, Lynne Featherstone, and Amina Mohammed, Special Adviser to the UN Secretary-General on the next set of development goals. They examined issues relating to the inclusion of people with disabilities in international aid programmes – from negotiations around the next global development framework to whether the Department for International Development (DFID) should implement a strategy to ensure people with disabilities are included in their plans (as we are calling for in our Put Us in the Picture report).
The chair of the committee, Malcolm Bruce MP, noted that 15 to 20 per cent of the world's poorest people have a disability and said it was vital to have a strategy specifically for disabled people, to ensure that no one was being left behind. Other MPs also quizzed Amina Mohammed and DFID about how they planned to include people with disabilities in the fight against poverty.
Mohammed, speaking on behalf of the UN, said poverty and disability were inextricably linked – and that the next development framework was an opportunity for political leaders around the world to address the lack of attention disability has been given so far. Lynne Featherstone said she wants DFID to lead the way on disability issues, and she recognised that her department's approach is still a work in progress, and there remains much more to be done.
In response to another question about future disability-related projects in the pipeline, the minister revealed that there were plans underway, but left the committee – and us! – in  suspense, saying she was unable to announce them yet.
What was clear from the session is that Featherstone is committed to addressing the neglect of disability, and interested in hearing more about how we can ensure people with disabilities benefit fairly from development programmes. It was really encouraging to hear her speak so passionately about her desire to push DFID to do more so that people with disabilities are included in their programmes, and to make sure that this work lasts beyond her tenure as minister and the next general election in 2015.
This goes to the heart of what our campaign is trying to achieve. We want to make sure that whoever is elected in May 2015 does what's needed so people with disabilities can benefit from UK aid. Now is the time to capitalise on the interest shown by the minister, and turn this commitment into concrete action. Without the adoption of a strategy that explicitly requires the inclusion of people with disabilities in development policy and programmes, one of the most marginalised sectors of the community may continue to be left behind and this once-in-a-lifetime opportunity could be lost.