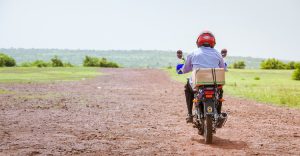 Last March, five regions in Mali were given ground-breaking news that would change the future of their communities.
Thanks to a generous grant from the Conrad N. Hilton Foundation and co-funding from the IZUMI Foundation we are one step closer to eliminating the blinding eye condition trachoma from these areas.
In collaboration with The Carter Centre and Helen Keller International (who have been supporting trachoma-eliminating programmes in Mali for the past 15 years) we have set up some really exciting new initiatives in the regions:
Surgeons on bikes: delivering treatment to people in remote areas who might not otherwise be able to get care.
mHealth: we've given these surgeons mobile phones to track the areas where trachoma is most prevalent.
Training: we're training even more specialist surgeons to go into communities and recognise and treat cases of trachoma.
We followed three women living with trachoma in these regions to see the incredible impact of the grants.
Salimata
The agony of trachoma alone is not easy to endure, but Salimata also had cataract in both her eyes, making her vision blurred and life extremely difficult. She had been living with these severe eye conditions for more than two years.
Salimata grows okra (a common food in rural areas) for a living. Without this work, she would have to spend money buying it from other growers at a great cost to her and her family. This is why her sight is so important; without it she would not be able to earn a living and contribute to her community.
Thanks to the Conrad N. Hilton Foundation grant and support from the IZUMI Foundation mobile surgeons like Boubacar (pictured above) can deliver treatment to people in remote villages allowing them to continue supporting their families. Shortly after her operation Salimata was able to go back to work harvesting Okra in the fields.
There is much trepidation and fear among local people about surgery in these communities, but as word spreads through the villages, the surgeons gain their trust. Salimata understands their value all too well: "I still have a cataract in the right eye. I am willing to have surgery on the other eye to see better, because nothing is more precious than sight."
Tenimba
Tenimba suffered with severe headaches as well as itchy and painful eyes for 10 years. At 70 she's still working hard gardening and cultivating peanuts to help her family, so her eyesight is very important to her.
"I have not reached the age of staying at home doing nothing, but I am compelled to because this disease makes me tired, especially when the pain increases. I can barely see during these times."
Mobile surgeon Karim arrived in Tenimba's village N'Korobougou thanks to funding from the Conrad N. Hilton Foundation and co-funding from the IZUMI Foundation.
Without Karim, Tenimba's condition would only have worsened, preventing her from earning a living, leading her further into poverty and poorer health.
After the operation, Tenimba felt nothing but relief. Here she is after her operation with Karim. She had no interest in putting her feet up after surgery; she told Karim that she couldn't wait to remove her bandages so she could sweep the courtyard and be useful again to her family.
Doikoura
Working in the fields each day at 62 is no easy feat but when you're struggling with endless itching and pain in one of your eyes it makes your usual everyday tasks even more challenging.
Doikoura was suffering with trachoma. One of the most agonising effects of this infection is the eyelashes turning inwards and scraping your eye with every blink.
When mobile surgeon Modibo rode into her village N'Korobougou on his motorbike Doikoura's entire life changed. She was able to get surgery to prevent her eyelashes from turning inwards, treatment she might not have otherwise received.
Following the operation Doikoura was all smiles. She said she felt no pain from the surgery and after living with trachoma for so long, she now feels nothing but relief.
Thanks to the funding from the Conrad N. Hilton Foundation and co-funding from the IZUMI Foundation we are edging closer to completely eliminating blinding trachoma from Mali. But we're not there yet.
The sheer number of cases compared to the number of surgeons we have in the field has created a long waiting list of trichiasis (advanced trachoma) surgery. But we're working relentlessly to tackle it, using the grant to train more surgeons in the field.
We're hopeful that by the time the three years of funding is up we will have eliminated trachoma from Mali meaning people like Salimata, Tenimba and Doikoura don't need to worry about going blind and losing their livelihood.