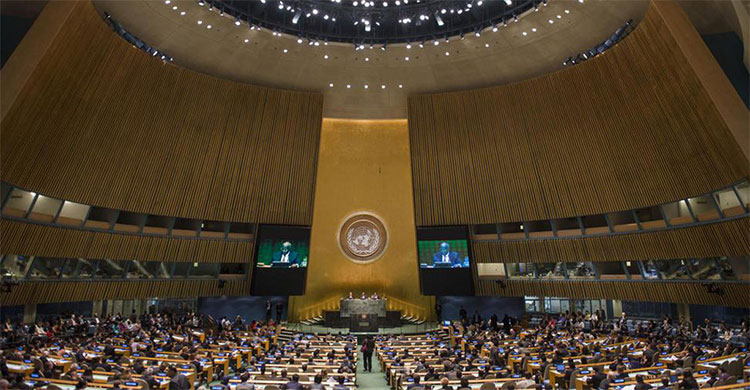 On 25 September, world leaders will meet at the United Nations General Assembly (UNGA) in New York to agree global development goals for 2016-2030.
What's all the fuss about at the United Nations?
This is considered by political leaders and development organisation alike as a meeting of historic importance.
Why is this meeting so important?
This meeting of the UNGA will formally adopt the new set of goals known as the Sustainable Development Goals (SDGs). These goals follow on from the Millennium Development Goals (MDGs) which were set in 2000 and are due to expire at the end of 2015. The MDGs have been hugely influential in shaping how international development issues are addressed and this will also be the case for the SDGs.
What were the MDGs?
The MDGs included goals on reducing poverty and disease, and improving health, education, equality and the environment – but they made no mention of disability, meaning that when countries were given global aid, it made little or no difference to the lives of their most vulnerable citizens.
Will people with disabilities be included in the SDGs?
Yes! Thanks to the campaign efforts of supporters like you we've been able to ensure that people with disabilities have been included in the SDGs. This is a massive step forward in development policy. It ensures that the inclusion of people with disabilities is now a principle, and not an afterthought.
What do the SDGs consist of more generally?
The SDGs, which will expire in 2030, consist of 17 goals and 169 targets. The goals include many of the issues of the MDGs, but also introduce wider-ranging including issues relating to the environment and inclusivity. A useful resource for further reading can be found at globalgoals.org.
What are some of the goals and targets Sightsavers will be keeping a close eye on?
Many of the goals relate to work Sightsavers is engaged with but disability is specifically referenced as part of the targets in Goals 4, 10 and 17. Goal 10 is of special importance as it aims to reduce inequality within and among countries. We are particularly excited about Target 10.2 which aims to "empower and promote the social, economic and political inclusion of all" – including people with disabilities.
What impact will the inclusion of disability in the SDGs have on the daily lives of people with disability?
Having disability as such a strong focus in so many national policy areas within the SDGs, including employment, education and transport, gives clear direction for development planners and thinkers. It provides a powerful tool that people with disabilities can use nation-by-nation to argue for their inclusion. Disability communities in countries across the world can now more effectively argue for their own inclusion by saying to their leaders: "You signed up to this global call, let us help you to make good on it."