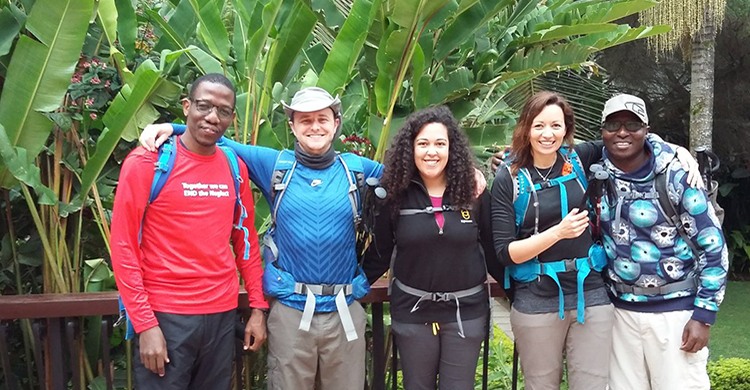 After 11 weeks of hectic preparation, fundraising and training, a group of staff from Sightsavers are heading to Tanzania for an unforgettable fundraising adventure.
Our team of five are heading off to join The END Fund and 11 other hikers to climb 5,895 metres to the summit of Mount Kilimanjaro, to raise awareness and funds for people going blind from neglected tropical diseases such as river blindness and trachoma.
Here, Sightsavers team member Heather Getty shares her thoughts.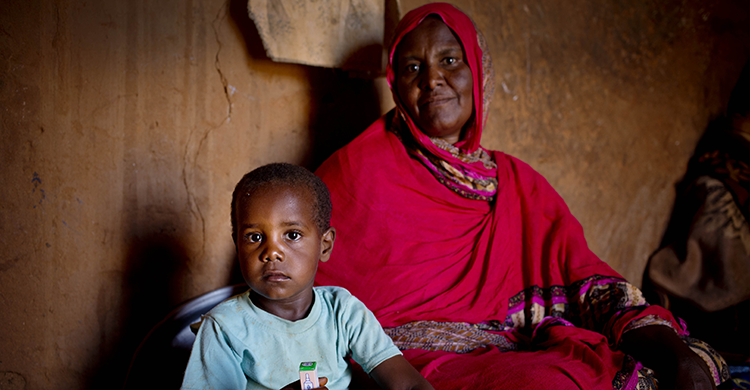 Our international team is made up of myself and my colleagues, Mike and Carly from our UK office, John Muriuki, who's based in Kenya, and a last minute addition – Calvin Oyugi Abondo, also based in Kenya, who amazingly stepped in with less than a week's notice after another colleague had to pull out due to injury.
So why are we doing this? Hiking for seven days at high altitude is going to be a huge personal challenge, and hopefully an incredible experience, but I think for all of us the real motivation is the chance to do something extra to contribute to the elimination of these devastating diseases and put an end to the terrible effect they have on the lives of millions of people.
When three-year old Anwar was examined by Dr Jasser, a trachoma grader, during our Global Trachoma Mapping Project (GTMP) in Sudan, he was diagnosed with an active trachoma infection. "I don't know what this disease is," said his mother Skina, despite the fact that Sudan has one of the highest prevalence rates of trachoma in Africa.
The reasons for Anwar's active infection were explained by Dr Jasser.
"Anwar's home environment is very crowded – there are five other children in the family. There are a lot of flies and a lot of poverty. They have a lot of animals like goats and chickens living in the same environment as the children so it is not a clean environment. [We have told Skina] she must keep Anwar's face clean and give him the antibiotic ointment…after six weeks the condition should clear up."
Anwar is just one of the 230 million people who live in trachoma endemic areas and are at risk of infection which can lead to visual impairment and irreversible blindness.
Through our partnership with The END Fund, Sightsavers is working to fund and deliver programmes in countries including Sudan and Tanzania to achieve our goal of eliminating trachoma and other NTDs. Working with The END Fund and other partners committed to this goal, we're able to provide treatments to millions of people every year, but of course there's still much more to do.
The two and a half months since we found out we were going has gone incredibly quickly. We've all been training a lot; with visits to the gym, weekend hikes, and even swapping the short train journey home from the office for a four hour walk home over the South Downs!
We've also been trying to fit in as much fundraising as possible – pestering our friends and family, holding bake sales in the office and running sweepstakes for the UEFA Euro 2016. We've also had amazing support from Sightsavers supporters through our posts on social media, and we really are so grateful to everyone who's sponsored us so far!
Ridding the world of NTDs will be a major milestone in the history of human health – benefiting over a billion people who live in places where these diseases blind, maim, and kill. I'm so honoured that through my work at Sightsavers, I am going to be able to say I was part of that incredible achievement, and I hope that everyone who's supported us on this challenge will feel proud to be part of that too.
We're hoping to be able to send through updates during our trip, so keep an eye on our twitter over the next two weeks to see how we're getting on. And of course there is still time to sponsor us via our online fundraising page.