I am Gertrude Oforiwa Fefoame, Ghana's candidate for the CRPD Committee, board member of the Ghana Federation of Disability Organisations and Sightsavers' Global Advocacy Adviser for Social Inclusion.
The Convention on the Rights of Persons with Disabilities (CRPD) exists to uphold and defend the rights of people with disabilities around the world. In this regard, the committee has the vital responsibility of supporting member states (countries that have ratified the Convention) in the implementation of the CRPD.
Here are some of my observations on its unique opportunities and challenges.
Ensuring the committee's work has the greatest impact
Disability is cross-cutting. For the committee that monitors implementation of the UN Convention on the Rights of Persons with Disabilities, this means that all other treaty bodies' work is of interest. The CRPD committee needs to ensure that all treaty bodies effectively include issues on disability.
Work on this is already happening. At the 59th session of the Commission on the Status of Women in New York in March, I participated in and contributed to a side event at which representatives from three committees – on the Convention on the Elimination of All Forms of Discrimination against Women, the Convention on the Rights of Children and the CRPD – discussed the need to work more closely together and include issues of disability in their work. My suggestion is that we intensify this work through focal points on each committee, through the biannual meetings of the treaty body chairs, and through continued technical support on disability inclusion.
Challenges to the implementation of the CRPD
Disability continues to be viewed as special – difficult, and expensive to manage. Some people are still thinking in terms of the 'welfare' aspect of implementation, even when the discussion is on the Convention. Others are willing, but require more guidance in order to implement the Convention effectively.
I would like to see:
Continued advocacy by disabled people's organisations (DPOs) and other civil society organisations (CSOs) in engaging States to effectively implement the CRPD.
This includes strengthening these organisations. I have played a role in this as a trainer/facilitator in the Institutional Development Programme, which ended in 2016, and currently in BRIDGE, a collaborative effort by the International Disability Alliance and the International Disability and Development Consortium. Training at grassroots and district level (which I have also been involved with) must continue, to increase knowledge of the CRPD and Sustainable Development Goals (SDGs).
More awareness-raising and training of duty-bearers
This is critical and needs to be continued and emphasised. We need to take advantage of already planned events and meetings, including those for parliamentarians and ministry directors, to raise their awareness and offer technical support where needed.
States ensuring inclusion of disability in relevant policy
This is especially important in the implementation and monitoring of other UN, regional, national and other local legislations and policies – for instance, the alignment of the CRPD and SDGs to enhance implementation.
Ongoing work of the Committee in the development of General Comments
General Comments further break down some of the articles of the Convention in practical ways, to enhance implementation. I have contributed to the development of a number of General Comments through surveys, national level discussions and inputs and other debates and meetings.
Increasing the participation of people with disabilities at all levels
Coming from a developing country and being a human rights activist at grassroots, continental and global levels, I have seen that the participation of people with disabilities and their representative organisations needs to increase if we are to implement the CRPD effectively. The challenge of this is that it can be a 'chicken and egg' situation: while implementation of human rights treaties will lead to an improved quality of life for people with disabilities, many people (especially where there is little or no effective provision of social protection), have to focus on basic survival. Because of this, they understandably may not see human rights approaches as a priority, and would prefer 'welfare' services to support them. This means that although we've seen some improvement in participation, there is still a great deal of work to be done to reach the desired level. This in turn affects advocacy at those levels, meaning duty bearers, including member states that have ratified the Convention, are not held accountable at all levels.
Training is key in tackling this, for both duty bearers and DPO members, and there are systems in place for sharing experiences and mentoring in some organisations.
There is often a misunderstanding of the role of DPOs: for example, how they get involved in reporting on progress. A General Comment on DPO participation is underway by the CRPD committee, and this will potentially go a long way in solving the problem.
If we really want to make meaningful, lasting change, we must continue to strengthen collaboration among the CRPD committee and other treaty bodies, increase participation of individuals and DPOs, and continue to press for commitments by member states to improve the quality of life of people with disabilities.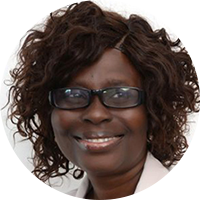 Gertrude (Getty) Oforiwa Fefoame

Getty is Sightsavers' Global Advocacy Adviser and has been nominated by Ghana's government to join the UN Committee on the Rights of Persons with Disabilities.
LinkedIn  Twitter