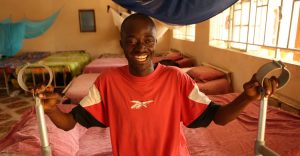 We're excited with how our Put Us in the Picture campaign's been going so far – many of you have signed up for campaign updates, put yourselves in our picture of supporters and written to your MPs. Thank you!
We've also received some great support from public figures; if you'd like to get involved and support the campaign like they have, you can find out more and join our campaign here.
Lorraine Kelly (TV presenter)
"Again and again people with disabilities in developing countries aren't given the same opportunities as their peers.  Why shouldn't a blind child go to school, or a disabled father be given the training to earn a living and support his family? That's why I'm joining Sightsavers and calling for people with disabilities to be Put in the Picture and included in conversations about international development. I hope you will join me."
Haydn Gwynne (actress)
"Through Sightsavers I have seen for myself the huge difference that can be made when children with disabilities are included in schools and educated alongside their peers. It is inspiring and everyone benefits. Sadly I have also seen children excluded from education and even abandoned altogether as a result of their disabilities. It is essential that they are not left out of the discussions when it comes to International Development and Aid."
Sunetra Sarker (actress)
"I'm supporting Sightsavers' Put Us in the Picture campaign because people living with disabilities in developing countries are all too often marginalised and forgotten about. Everyone should have access to an education, to health care and, if they need it, supported to live independently.  I want the government to ensure they are taking into account the needs of the world's billion people with disabilities when drawing up their international development plans. No one should be left behind"
David Blunkett MP
I know how important it is for people with disabilities to have the same opportunities as everyone else: to get a quality education, to have equal access to healthcare, and to be able to earn a living in order to support themselves and their family. And I've seen for myself when visiting projects in Kenya and Tanzania, the difference an education can make to a child's life. That's why I'm supporting Sightsavers call for people with disabilities to be included in international development plans.
Mike Weatherley MP
"International aid is an important part of Government spending and so it is quite right that pushing for the inclusion of people with disabilities is made a priority. Cross-party motions such as this [Early Day Motion] are an important and helpful way to highlight issues that might otherwise not get the attention that they deserve."
Ann Widdecombe (politician)
"To have a disability anywhere can be challenging enough, but if you have a disability in a country with a fragile welfare system or live in a village with no drinking water supply or adequate sanitation, life can become a daily horror. So I'm supporting Sightsavers' Put Us in the Picture campaign to make sure people with disabilities are given the same opportunities as everyone else when it comes to alleviating poverty."