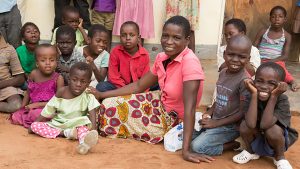 A landmark report that supports Sightsavers' Put Us in the Picture campaign has been published by the International Development Select Committee (IDC).
The report echoes our call for disability to be prioritised in the fight against global poverty, and recommends that the government creates a development strategy that's inclusive of people with disabilities.
The IDC is made up of cross-party MPs, and its report is a welcome announcement for Sightsavers and other NGOs working with people with disabilities in developing countries.
Of the billion people worldwide who have a disability, the vast majority – 80 per cent – live in developing countries. On average, one household in every four in the poorest communities has an immediate member with a disability, which means at least two billion people live with the impact on a daily basis.
Sightsavers' Put Us in the Picture campaign highlights that the potential of people with disabilities to contribute to development is being lost. The IDC report signals a huge step forward in recognising that disability and development are inextricably linked.