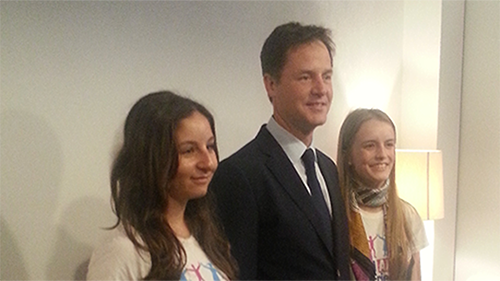 Deputy Prime Minister Nick Clegg has stated how vital it is for children with disabilities to access education, as part of a speech on international development given in London.
His comments support Sightsavers' objectives as part of the Put Us in the Picture campaign.
During the speech, Clegg said: "We can't do any of this in isolation. By working with other countries, NGOs, foundations, businesses and multilateral institutions like the EU, we can extend our reach to the remotest villages, the toughest terrain and the people who are hardest to reach."
In response to Clegg's speech, Sightsavers' CEO Caroline Harper said: "Nick Clegg's re-commitment of the Liberal Democrat party to international development this morning was very welcome and I was particularly pleased that he recognised the importance of ensuring children with disabilities are able to get an education.
"He also said we must ensure aid gets to those who are hardest to reach. This means people with disabilities, 80% of whom live in developing countries, where they are often the poorest of the poor.
"We need to ensure that people with disabilities are systematically included in all aspects of UK aid – this means they have a voice in and are able to benefit equally from UK aid. Their active inclusion will mean that eliminating extreme poverty becomes a realistic aim."
Clegg also met with Send My Friend to School Young Ambassadors, Maisie and Rebecca. They talked to him about their experiences in Uganda visiting our inclusive education programmes as part of their trip for the Global Campaign for Education; the differences between the visually impaired children they met who were in education, and those who couldn't go to school.