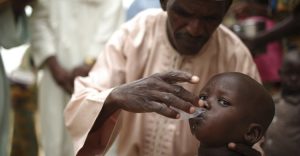 Sightsavers is leading an ambitious project to help eliminate seven neglected tropical diseases (NTDs) in Nigeria that aims to distribute 110 million treatments over four years.
The project has been described by Sightsavers CEO Caroline Harper as "a huge step towards consigning preventable infections to the history books where they belong".
Nigeria has the highest number of people living with neglected tropical diseases in Africa, and many of the diseases can be prevented with simple oral treatments taken once or twice a year. The project aims to reach close to 14 million people in the three northern states of Zamfara, Kano and Katsina, protecting them against blinding trachoma, schistosomiasis, lymphatic filariasis, river blindness and several types of intestinal worms.
The project is possible thanks to generous funding from the UK Department for International Development. It will dramatically increase the availability of treatment for the poorest people in the country, and help prevent disfigurement, disability and chronic illness for millions.
Local community health officers such as Abdullahi Labbo play a key role in raising awareness in the community of neglected tropical diseases and how to treat them.
"During health education sessions through the radio, I provide my phone number for people to call when they require information on NTDs," says Abdullahi. "I regularly receive calls from people about the impact that NTDs are having on them and I tell them about what they can do to protect themselves and their families. I am proud to be a part of a programme that is working to achieve elimination of seven disabling diseases in Zamfara."
With the help of Abdullahi and other health officers, the work of the consortium and funding from DFID, we're getting closer every day to our goal of eliminating neglected tropical diseases.
To find out more, read the latest DFID Nigeria newsletter for updates on the project.