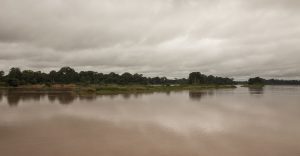 The World Bank's River Blindness: 40th Anniversary Summit begins later today in Washington DC.
The event will be attended by Sightsavers President Princess Alexandra and World Bank President Dr Jim Yong Kim, as well as Sightsavers' Chair Lord Nigel Crisp, CEO Dr Caroline Harper and Director of Neglected Tropical Diseases Simon Bush.
The river blindness summit has been organised by the World Bank's Africa Region to look back on and celebrate the Partnership to Control River Blindness, arguably the World Bank's first health project (and a long-running public/private partnership), which now treats as many as 100 million people a year.
As well as celebrating all that has been achieved, attendees will also be looking to the future to consider how the success of the river blindness prevention programmes can be replicated across other neglected tropical diseases.
Also speaking at the event will be: Mrs Diana McNamara, widow of former World Bank Group President Mr Robert McNamara; Dr Luis Sambo, World Health Organisation Regional Director for Africa; Dr Tim Evans, Director Health, Nutrition and Population Network, World Bank; Ms. Geralyn S. Ritter, Senior VP, Global Public Policy and Corporate Responsibility, Merck; and Dr Merza Hasan, Kuwait Executive Director and Dean of the World Bank Executive Board.
You can follow the event with regular updates on the Storify feed below, or view the live stream on the World Bank website.
Our work with river blindness
Working with our partners last year, Sightsavers supported the distribution of more than 34 million treatments to protect against river blindness.