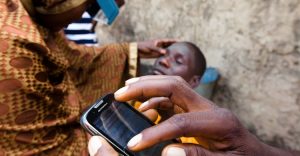 Sightsavers' Global Trachoma Mapping Project, which aims to find out where in the world the blinding disease trachoma is most prevalent, is poised to hit its original two-year target nine months early and under budget.
The mapping project began two years ago as the largest infectious disease mapping project ever attempted. The aim is that treatment for trachoma can be focused where it's needed the most and meet the World Health Organization goal of eliminating the disease by 2020.
The Sightsavers-led project, funded by the UK Department for International Development (DFID), has so far seen more than 1.7 million people (representing a population of 137 million people) examined for signs of trachoma, with 44 per cent of the districts mapped so far requiring antibiotics distributed to everyone in the area – that's 53 million people. The process is very quick: teams examine on average one person every 30 seconds. So far, information has been captured across 1,162 districts. See the infographic below for more statistics.
Gathering the huge amount of data has been possible thanks to global collaboration with local ministries of health; academics and non-governmental organisations; and consistency in methods used to collect data. A smartphone app allows project workers to quickly input and upload information to a global database.
Trachoma is the world's leading cause of avoidable blindness – it's an infection that's easily spread by flies, touch and clothing, especially in areas with little or no sanitation. Repeated infections cause scarring that makes eyelashes turn inward, scraping the eyeball painfully with every blink and gradually causing blindness. The strategy used to work towards trachoma elimination is known as SAFE (surgery, antibiotics, facial cleanliness and environmental improvement): find out how it works and see the amazing difference it can make by reading Neema's story.
Now that we're ahead of our original target, we're expanding the number of districts the project aims to map by 50 per cent. Completing the mapping project (due to be finished by March 2015) is an essential step in the 2020 elimination plans, and we're excited to be well on the way to success.