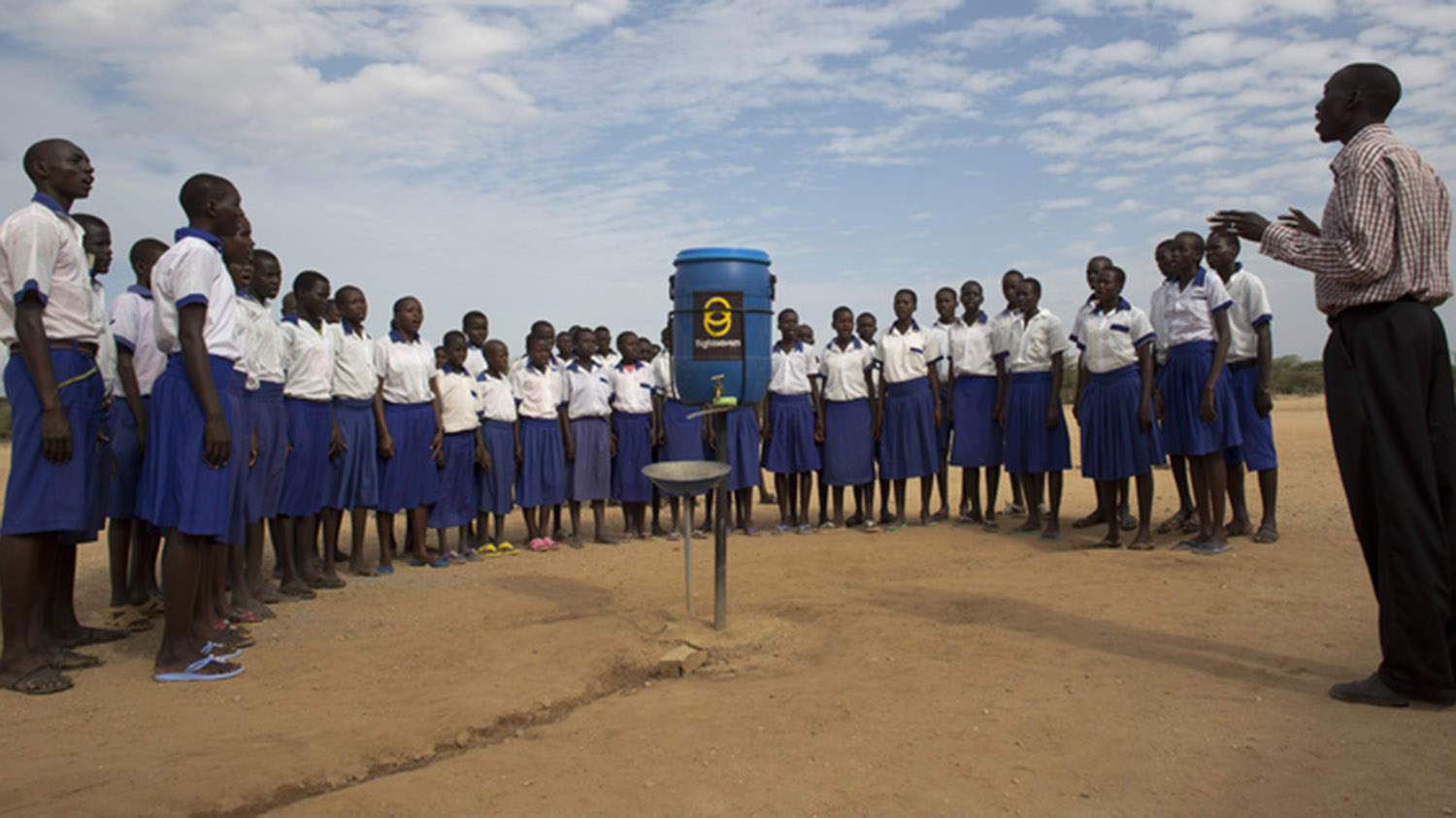 Sightsavers and its partners are launching a hygiene behaviour change programme in northern Kenya that aims to teach children how to wash their face to prevent trachoma.
The programme is part of a tie-up between Unilever's health soap Lifebuoy, with the support of The Queen Elizabeth Diamond Jubilee Trust.
Trachoma, caused by a bacterial infection, is easily spread from person to person by unwashed hands and flies. Increased facewashing with soap in schools could not only protect the sight of people living in Kenya, but also the 229 million people living in trachoma-endemic districts across the world.
The pilot programme will work with pupils in ten schools in Turkana. It will use learnings from Lifebuoy's successful handwashing behaviour change campaigns to find the most effective way to encourage children to regularly wash their face with soap. The ultimate aim is to reduce the spread of infection.
Almost two thirds of people have the blinding disease in Turkana, with more than 42 per cent of children under nine having the infection. Poor hygiene and sanitation in schools and at home has so far been overlooked in the fight against trachoma.
This collaboration is part of The Queen Elizabeth Diamond Jubilee Trust Trachoma Initiative, which sees The Trust partnering with the International Coalition for Trachoma Control (ICTC) to coordinate efforts to eliminate blinding trachoma in countries within the Commonwealth.
A small and simple step
Elizabeth Owuor-Oyugi, Sightsavers Country Director in Kenya, said: "Children are especially prone to this painful and potentially blinding disease. We're working with Kenyan schoolchildren to find the best possible way to make facewashing with soap part of their daily routine. It's a small and simple step, which could then be rolled out globally to help tackle an unreported epidemic that puts a shocking 229 million people at risk of blindness around the world."
Like Lifebuoy's 21-day handwashing programmes, the pilot will use comics, puzzles, stories and games to make facewashing with soap fun and engaging for children. Similar projects found that children not only adopted new habits at school but became change agents delivering hygiene messages to their families at home. The pilot will then be rolled out to another 300 schools from December to ensure this important message reaches more children and more communities.
Comics, puzzles, stories and games
The behaviour change methodology is based on work undertaken with the London School of Hygiene and Tropical Medicine. It involves children making a commitment in front of peers to facewash with soap, an important step for turning an action into an everyday habit. Reward and recognition are also strong motivators of social change and children should feel good for taking part.
Dr. Myriam Sidibe, Lifebuoy Global Social Mission Director at Unilever, said: "This partnership is taking the proven success of the handwashing behaviour change campaigns and, for the first time, applying these lessons to implement a facewashing with soap campaign. The elimination of trachoma is within our grasp, and this simple step could significantly reduce the risk of the infection spreading."
The project is part of a broader WHO-endorsed SAFE strategy for treating trachoma. The strategy aims to tackle the disease from prevention to elimination, providing surgery and antibiotics, while promoting facial cleanliness and environmental hygiene.