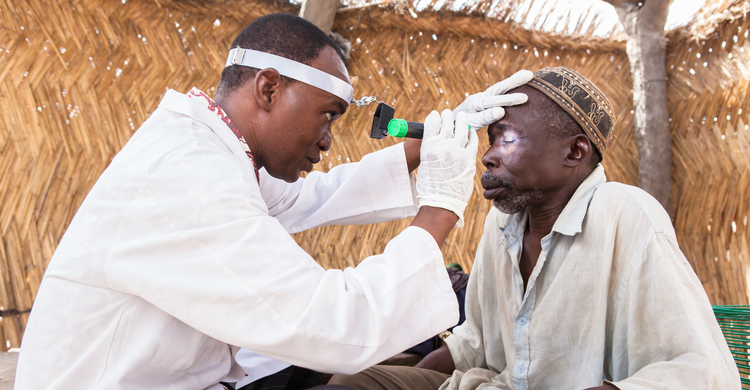 The Telegraph has published a letter signed by Sightsavers, along with 15 other international development NGOs, in response to statements made by Foreign Secretary Philip Hammond that enshrining the 0.7 per cent aid target in law was 'bizarre'.
As mentioned in the letter, the commitment to enshrine this target in law was included in the manifestos of all three parties, including the Conservative manifesto that Hammond was elected by. It was also included in the programme of work set out in the Coalition Agreement – yet, while the 0.7% spending target has now been met (something Sightsavers strongly welcomes) the legislation has not yet been passed.
Michael Moore MP has attempted to put this right by bringing forward a Private Members' Bill which is now working its way through parliament. On 12 September the bill was successful in passing its Second Reading, thanks to the support of over 160 MPs who turned up to speak and vote in favour of the Bill.
Earlier this week the bill passed its committee stage, meaning that it continues to progress and will have its third reading in the House of Commons on 5 December.
In order for the bill to pass its third reading and continue its progress towards becoming law, it will once again require at least 100 MPs to attend on 5 December and support the bill. If this happens then the bill stands a good chance of being passed before the end of this parliament – meaning that the vital British aid budget is protected for the future and able to continue to transform lives around the world.
You can read the full letter below.
"SIR – Philip Hammond is misguided in his comments about the aid law passing through Parliament.
This Bill enjoys cross-party support. Enshrining Britain's aid promise in law would deliver the 2010 manifesto pledge of all three main political parties as well as the Coalition agreement.
We should be proud that Britain has reached this international target. This law puts life-saving aid beyond politics, guaranteeing that 0.7 per cent of gross national income is spent on aid each year, linked to economic performance, until it is no longer needed. The Bill would also move the debate from "How much aid?" to "How can we use aid most effectively?"
This Bill sends a signal to developing countries that we will keep our aid promise to them. It reminds other rich countries that they too must meet their aid targets.
British aid saves lives and changes lives every day. Philip Hammond is witnessing that first-hand in Sierra Leone where Britain leads the fight against Ebola. However, humanitarian aid alone is not enough. Enshrining the target in law will enable future British governments to make smart long-term investments that address the root causes of poverty."
Ben Jackson
Chief Executive, Bond
Brendan Cox
Director of Policy and Advocacy, Save the Children UK
Chris Bain
CEO, Cafod
Jehangir Malik
UK Director, Islamic Relief
Juliet Milgate
Director of Policy and Advocacy, Sightsavers UK
Aaron Oxley
Executive Director, RESULTS UK
Amy Dodd
Coordinator, UKAN
Bert R Smit
CEO, ADRA-UK
Diane Sheard
UK Director, The ONE Campaign
Justin Byworth
CEO, WorldVision UK
Loretta Minghella
Chief Executive, Christian Aid
Margaret Batty
Director of Policy and Campaigns, WaterAid
Rose Caldwell
Executive Director of Concern Worldwide (UK)
Simon O'Connell
Executive Director Elect, Mercy Corps
Tanya Barron
CEO, Plan UK