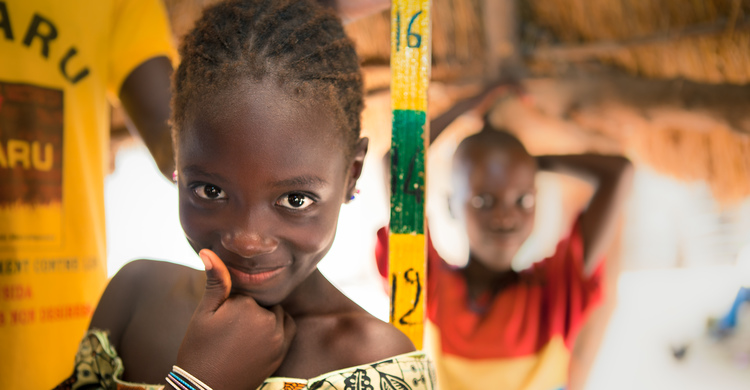 Today's publication of Bill and Melinda Gates' annual letter includes a rallying call to the international development community to end four diseases – guinea worm, lymphatic filariasis, river blindness and blinding trachoma – by 2030.
The announcement brings much-needed attention to the work being done to eliminate the group of diseases known as neglected tropical diseases (NTDs), which has been a primary focus for Sightsavers over the past 60 years.
Commenting on Gates' ambition, Dr Caroline Harper, CEO of Sightsavers, said: "As Bill and Melinda Gates have highlighted, there is a real opportunity in the coming years to end some of the debilitating and devastating neglected tropical diseases (NTDs) that affect over one billion people living in poverty. What is now needed to accelerate progress on elephantiasis, river blindness and blinding trachoma (and win Gates his bet) is for these and the other NTDs to be included within the new set of development goals being finalised this year.
"Living in poverty is often the main reason communities are at risk of these diseases, and in turn NTDs themselves cause poverty. If we can ensure they are at the centre of global efforts to combat poverty over the next 15 years, both adults and children will be given the opportunity to live healthy and productive lives, no matter where they live.
"The new sustainable development goals aim to improve the lives of the poorest people in the world. They will be certain to address global health issues, with the aim of delivering better health care in a way that leaves no one behind. There is a clear path to combat the NTDs, and by embedding them within the new development framework, it will ensure that they are part of an international commitment to healthy lives for everyone everywhere.
"To end suffering due to NTDs we need to ensure that the health systems in the countries affected by these diseases are given the support they need to not only reach elimination but to sustain this achievement. Specific reference to these diseases will also help inform and coordinate with other sectors that play a vital role in elimination, such as the water, sanitation and hygiene sector and other disease-based initiatives.
"Ending these diseases is an ambitious but achievable goal which could deliver a lasting legacy for future generations, living a life free from the poverty that these diseases cause."
NTDs such as trachoma and river blindness are some of the world's leading causes of avoidable blindness. Trachoma is a highly contagious and easily treatable eye infection which, with repeated infections, causes scarring to eyelids that turns them inwards, making lashes scrape the cornea with every blink and gradually causing blindness. River blindness is spread by flies that breed near fast-flowing water. A fly bite passes worm larvae into the skin; the death of the larvae causes itching and lesions which can lead to blindness and disfigurement.
Sightsavers supports programmes across Africa to eliminate river blindness, trachoma and elephantiasis, among other neglected tropical diseases (NTDs). In 2013 it delivered over 111 million treatments to protect people from, and cure people with, these debilitating diseases. Many projects are being delivered with the support of donors who are investing in ending these diseases including the UK government, The Queen Elizabeth Diamond Jubilee Trust, Conrad N. Hilton Foundation and the IZUMI Foundation.
Sightsavers is also leading on the Global Trachoma Mapping Project, funded by the UK government, which is using mobile phone technology to support the elimination of trachoma by mapping its global prevalence. The data collected will provide a complete picture by the end of 2015 of how much is needed to eliminate this disease, as well as where treatments are needed. To date this project has examined more than 1.7 million people across 19 countries – an average of one person every 30 seconds.