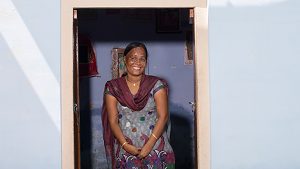 Anuradha Pareek, who featured in our Framing Perceptions photo exhibition, has been elected to local government in Bikaner, India.
It's an amazing achievement for someone who, just a few years ago, was struggling as a single mother raising two children, working in a job she hated and feeling that her disability meant she had few options in life.
Anuradha is a perfect example of how empowerment can make all the difference – joining a local disabled people's organisation (DPO) gave her the chance to meet "brothers and sisters; people like me" and she learned about her rights and the support available to her.
That was all it took: Anuradha has gone from strength to strength since then. She has been a leader of the Bikaner DPO, a social inclusion facilitator, and with her new title of Panchayat Samiti (local government) Director she'll be able to fight for the rights of people with disabilities even more effectively.
Framing Perceptions: stories of empowered lives and the impact of exclusion