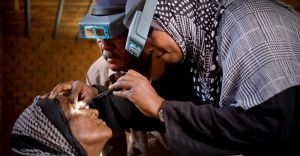 The Sightsavers-led Global Trachoma Mapping Project, which aims to determine the worldwide prevalence of the blinding infection trachoma, has completed its mapping in Sudan.
The innovative mapping project, the biggest infectious disease mapping project ever attempted, uses mobile phones to collate survey data. It aims to identify the areas most affected by trachoma to target treatment effectively and work towards global elimination of the disease by 2020.
Dr Bilghis, National Coordinator for the Sudan Trachoma Control Programme, said: "The biggest challenge we have faced in the Khartoum mapping is having to travel such far distances. Some of the localities are very far – we are mapping the outskirts of Khartoum and [the areas are] difficult to reach. Some are four hours from the centre."
Trachoma, a bacterial infection, can be easily treated with antibiotics. But if it's left untreated, repeated infections cause scarring to the eyelids and turns the eyelashes inwards. This makes them scrape the cornea painfully with every blink, which can eventually cause blindness.
So far the Global Trachoma Mapping Project, funded by the UK government Department for International Development and the United States Agency for International Development, has logged nearly 1400 districts in 22 countries. When the project ends in late 2015, it will have provided the information needed to focus global efforts towards the huge milestone of trachoma elimination.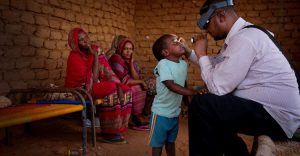 ]
Anwar
Anwar, who's three years old, was examined by Dr Jasser, a trachoma grader, and diagnosed with an active trachoma infection. "I don't know what this disease is," says his mother Skina. "The grader has explained it to me, he has got stage one trachoma."
Dr Jasser elaborates: "We have found that Anwar has trachoma… [Anwar's home environment] is very overcrowded – there are five other children in the family. There are a lot of flies and a lot of poverty. They have a lot of animals like goats and chickens living in the same environment as the children so it is not a clean environment. [We have told Skina] she must keep Anwar's face clean and give him the antibiotic ointment… after six weeks the condition should clear up."