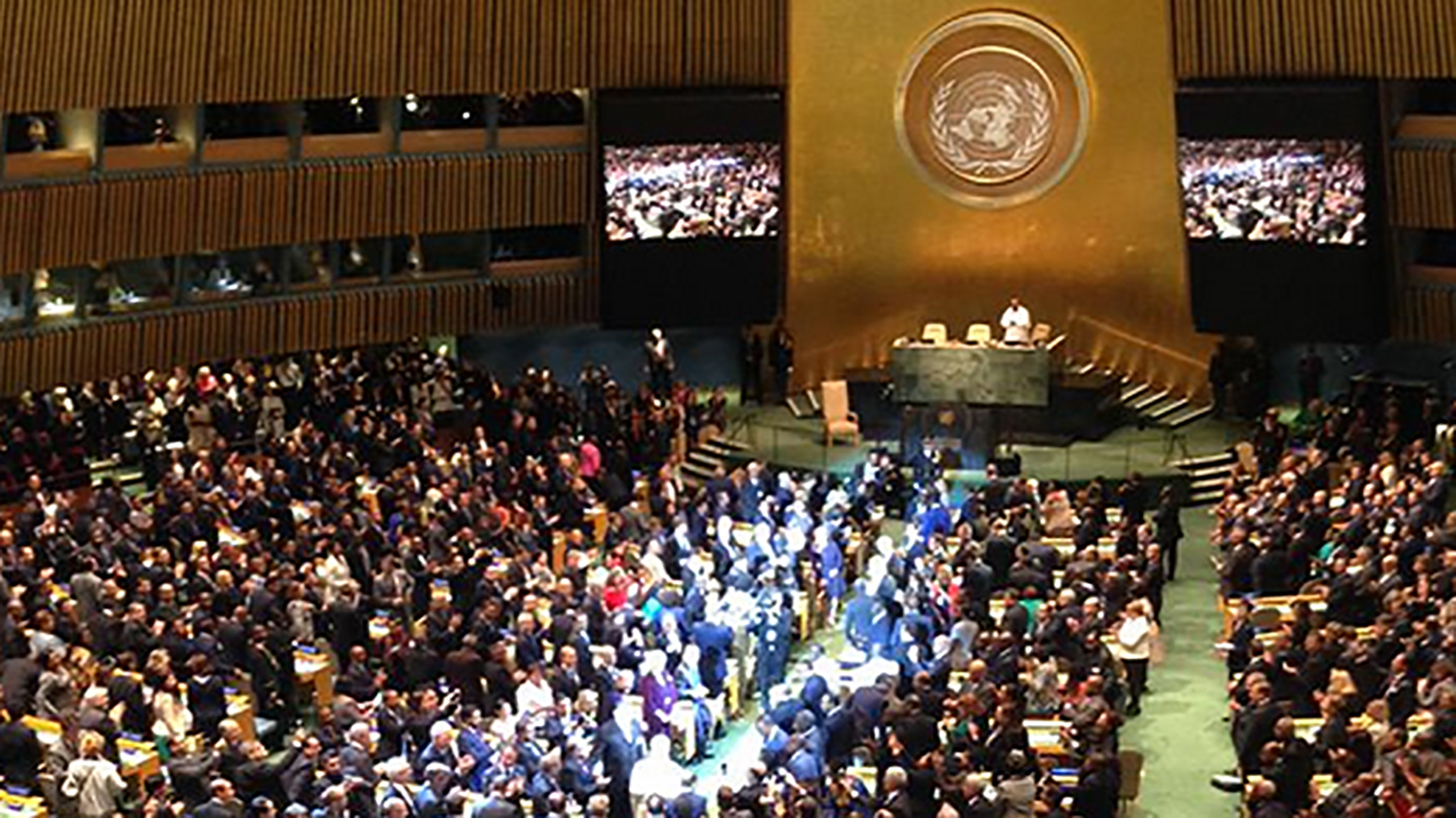 World leaders meeting at the United Nations General Assembly in New York have officially adopted 17 Sustainable Development Goals (SDGs) that could transform how the world looks by 2030.
The goals aim to bring an end to extreme poverty, fight inequality and injustice, and tackle climate change. Best of all, they're the first global goals to specifically include people with disabilities. This means that no goal will be properly achieved unless it's achieved for ALL people.
We're absolutely delighted with this commitment to global development that leaves no one behind. The 800 million people with disabilities living in developing countries deserve the same access to health care, education and employment as their peers; the chance to live independently; and the opportunity to have a voice in the decisions that affect their lives, but for too long they've been ignored and excluded. The SDGs are the greatest chance we've had yet to change this.
"Today the world reached out to a billion people who had been left behind," said Sightsavers chief executive Caroline Harper. "People with disabilities – the girl who does not go to school because she uses a wheelchair, the boy who is told he cannot marry because he is blind, the man who is isolated by dementia.
"These are the people the MDGs [Millennium Development Goals] ignored completely. And the people that today's agreement has truly embraced for the first time. No goal can be said to be reached unless it is also reached for people with disabilities.
"As John Lennon said, 'Imagine all the people sharing all the world.' This is the dream that Sightsavers and our friends have been fighting for, to see people with disabilities fully included. At last. We are determined to make this dream a reality – so by 2030 we will look back and think 'That was the day' and there will really be no one left behind."
Our work isn't over now that these goals have been agreed – far from it! Over the past two years we campaigned for the goals to specifically include people with disabilities, and now that this has happened we'll be campaigning to make sure that the commitment on paper becomes a reality.
A massive number of activists and organisations campaigning over recent years have contributed to making this happen, but we'd like to say a special thank you to all our Put Us in the Picture campaigners – by sharing, tweeting, writing to your MPs, attending events and taking other actions, you have been part of this amazing global achievement!
If you're new to the campaign, it's not too late to be a part of it! Sign up and get involved…