A new ophthalmology unit and theatre supported by Sightsavers has opened at the Mandeville Regional Hospital in Jamaica.
The opening ceremony was overseen by Jamaican Minister for Health Horace Dalley and Sightsavers Programme Monitoring Advisor Philip Hand.
The number of operations performed each year at the hospital has grown from 63 in 1998 to 500 in 2010, yet there is still a surgery backlog and a waiting list of at least a year. The new unit means eye surgery can be carried out for at least four days a week, which will help to alleviate these issues and provide the region with a better service. The ophthalmology service at the hospital was previously using a shared operating theatre for one day each week.
During the ceremony, Horace Dalley said: "I want to ensure that this programme here, in Mandeville, is replicated in all the regions. We are going to work with our partners to ensure that every single health region has an ophthalmology unit and operating theatre, so that our people can be properly served."
Philip Hand added: "Sightsavers has been working with the Mandeville Regional Hospital and our partners (Caribbean Council for the Blind and Jamaica Society for the Blind) to develop eye health services for many years.
"When I first visited the hospital 10 years ago there were two ophthalmologists working in a small, crowded unit within the main hospital building. There is now a dedicated ophthalmology unit with four ophthalmology consultants, four ophthalmology residents, five dedicated nurses and a full time optometry and low vision service. The region served by the hospital now also has four refractionists and the first of a number of eye clinics has been set up in Black River Hospital.
"Sightsavers is very proud of our role in the development of eye health services in Jamaica."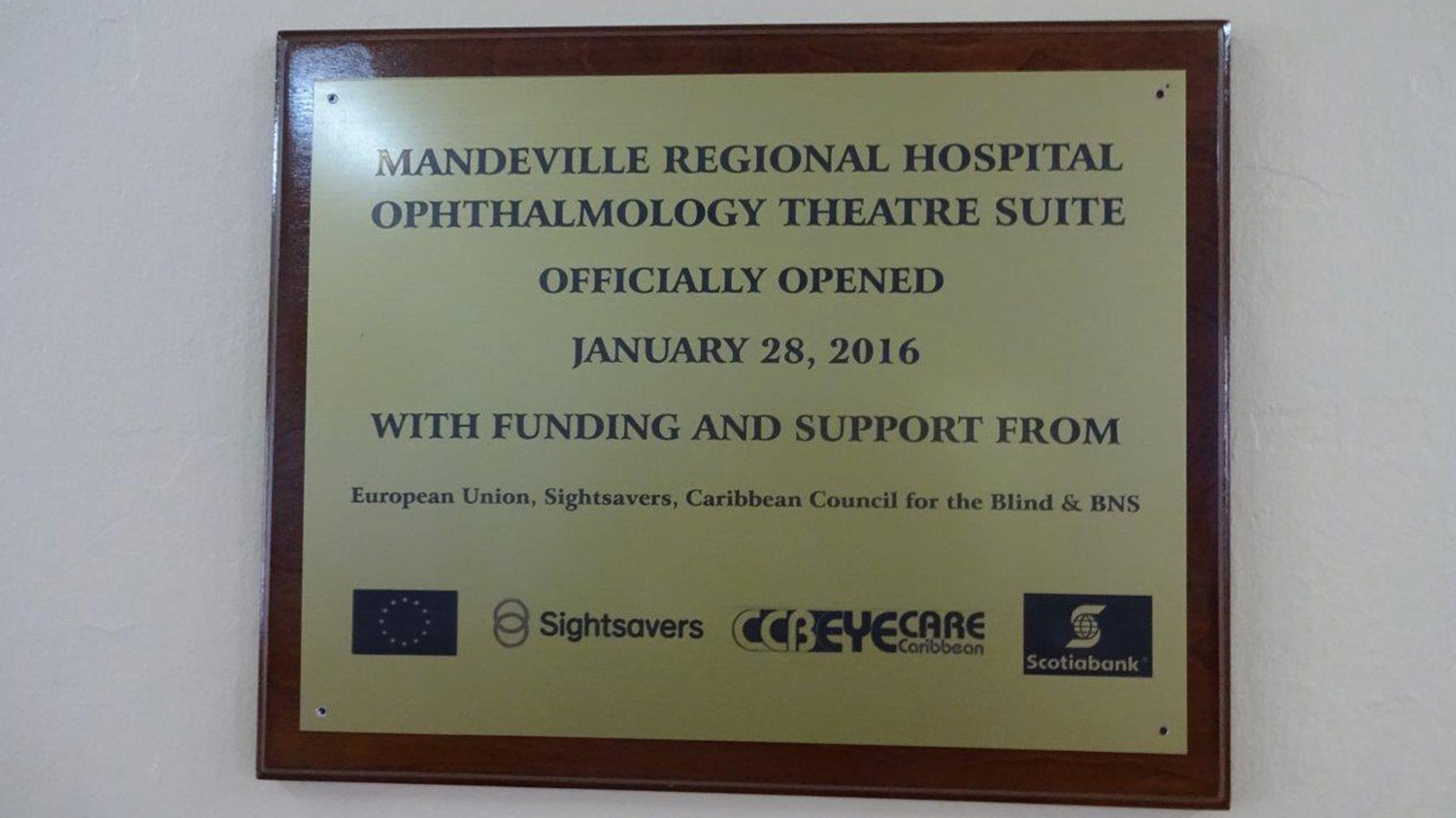 The aim of the European Union-funded project is to reduce the prevalence of blindness in the Caribbean, covering Jamaica, Haiti, Guyana and St Lucia. This will be achieved through:
Helping to train eye health professionals
Developing infrastructure, including operating theatres, vision centres and spectacle labs
Supporting research activities
Creating public awareness
Increasing access to services for people who are blind and visually impaired.
The project is jointly funded by Sightsavers and the European Union and has supported refurbishment of the new theatres and associated rooms, plus some of the theatre equipment. The funding also covered the costs for much of the new equipment in the optometry/outpatient side of the facility, as well as funding the training of one ophthalmologists, one optometrist (plus three more to graduate this year) and four refractionists.