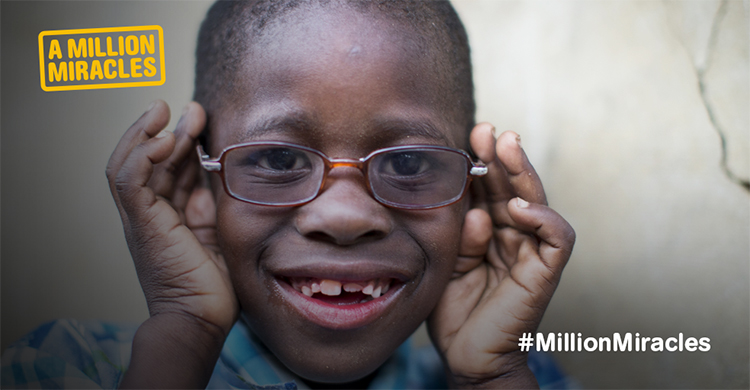 Sightsavers has teamed up with optical group SmartBuyGlasses to launch a campaign in which £1.50 will be donated to Sightsavers' Million Miracles appeal for every pair of prescription glasses bought on any SmartBuyGlasses website throughout April.
More than 20 million people in the world are blind because of cataracts. Yet cataracts are easily treatable with a straightforward operation. For many people living in the poorest parts of the world however, surgery is beyond their means. Often people do not have access to a health centre, do not know their condition is treatable, or simply cannot afford the operation.
Sightsavers is able to treat cataracts for just £30, and customers of SmartBuyGlasses will be helping to give the gift of sight to people living with vision loss in Africa and Asia when buying on the SmartBuyGlasses website.
Doron Kalinko, CEO and co-founder of SmartBuyGlasses, said: "We're really excited to partner with Sightsavers for the Million Miracles appeal, and can't wait to see the impact of this collaboration. Since 2006, we've helped more than 80,000 people in the developing world by donating prescription eyewear. It's great to work with new partners to diversify the ways in which we give back, since driving global change is the foundation stone of the SmartBuyGlasses Optical Group."
Sightsavers' Million Miracles appeal is aiming to raise enough funds to carry out one million of these life-changing operations by 2017.
Mike Straney, Director of Major Giving at Sightsavers, said:"Partnerships like this can give a huge boost to the work we are doing to protect and restore sight in the world's poorest countries. We are so thrilled to be working with SmartBuyGlasses, and hope this opportunity will encourage consumers to feel a sense of pride that they're helping other people to see, when buying their specs online."
To find out more about our campaign, visit our Million Miracles website or visit the SmartBuyGlasses website and start shopping.