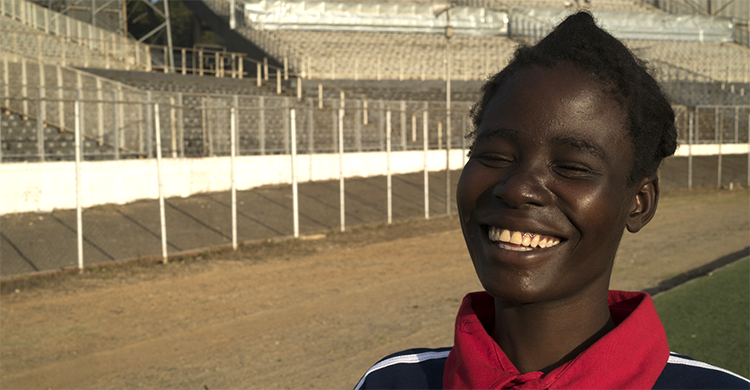 Say hello to 20-year-old runner Taonere Banda – the only Malawian athlete to take part in this year's Paralympic Games, thanks in part to Sightsavers supporters.
Taonere, who has low vision, was due to compete at the London 2012 games, but the team was forced to pull out of the competition at the last minute due to a lack of funding.
This year, Taonere and her coach George Luhanga's places at Rio are secure as the International Paralympics Committee is funding their airfares, and the Malawian government is covering the rest of the team's travel costs. The Malawi Paralympics Committee confirmed Taonere's involvement at a special event at the National Sports Council in Blantyre on Monday 4 July.
Sightsavers has partnered with the Malawi Paralympics Committee (MPC) to share their vision of helping people with disabilities into sport by meeting the cost of Taonere's Paralympics training preparations.
During his speech at Monday's event, President of the MPC James Chiutsi emphasised that the sponsorship from Sightsavers has meant a lot for the Malawi team, who will attend the games not just as participants, but as serious competitors.
The sponsorship will cover the costs of a two-month training camp, at which Taonere will be joined by fellow visually impaired athletes Grace Kambiri and Prisca Kachule (both of whom have albinism) who are training to compete in the Region 5 Games in Angola.
"Sightsavers' sponsorship is really making sure that the athletes are being prepared for the games," says Chiutsi. "We are camping for two months… It will really help because this is going to pay for accommodation, for food, even for uniforms for the athletes to use in Rio and Angola, so we really are appreciative to Sightsavers."
"This is very critical," he continues, "because we know [sometimes] in Malawi society people with disabilities are looked upon as lesser human beings. Now, when you send a disabled athlete to Rio at that global level, I think it tells everybody else that no human being is less than the other. So we believe that apart from practicing sports, Malawi Paralympics is also trying to help the disabled rights movement in Malawi, so we appreciate it."
Taonere's determined to bring home a gold medal in September, when she'll be competing in the T13 category for the 1500m event (she's also hoping to enter the 800m) and proudly wearing a Sightsavers logo on her tracksuit.
We'll be following Taonere's journey in the run up to the Games here, and on our social media channels: @Sightsavers, Facebook and Instagram. Don't forget to share, retweet, react and comment to show your support!
Find out more about Sightsavers' campaign to put people with disabilities in the picture.