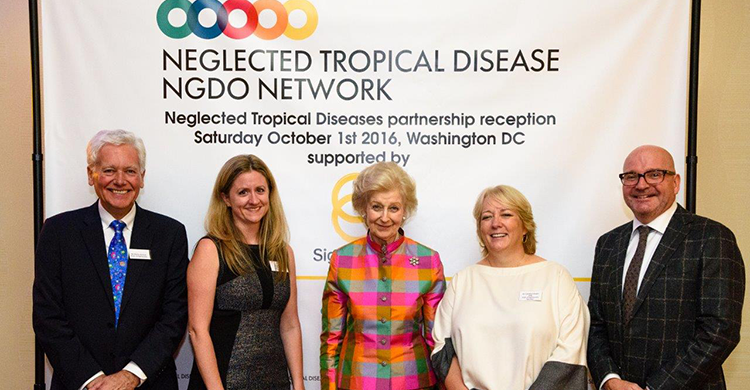 Sightsavers President HRH Princess Alexandra was in Washington DC on Saturday for the Neglected Tropical Diseases NGDO Network  conference partnership reception to celebrate the progress made in the treatment of neglected tropical diseases (NTDs).
The event, which featured speeches by  Sightsavers CEO Dr Caroline Harper and NTD Director Simon Bush, shared significant achievements made in the treatment of NTDs. It also congratulated the partners and individuals who have helped to deliver significant outcomes for beneficiaries and communities who are at risk of blinding NTDs.
Although NTDs are preventable and treatable, diseases such as trachoma and river blindness continue to affect more than a billion people in the world's poorest and most remote communities.
Princess Alexandra said: "As President of Sightsavers, I have taken a keen interest in the progress towards the elimination of neglected tropical diseases. I am heartened to hear from countries such as Ghana, Morocco and The Gambia of their progress towards the elimination of blinding trachoma. These are just three of the examples of how, by working in partnership, ministries of health have worked with a range of organisations and donors to achieve the goal of elimination."
There is an unprecedented partnership that has formed around NTDs, with a number of partners contributing to a global effort to control and eliminate the diseases. The event aimed to motivate partners to continue to work together to ensure a growth of treatments to meet the global control and elimination targets for NTDs.
The Princess added: "I am delighted to be with you as you confirm your plans and form new partnerships that will allow us, together, to reach the goal of the elimination of neglected tropical diseases."