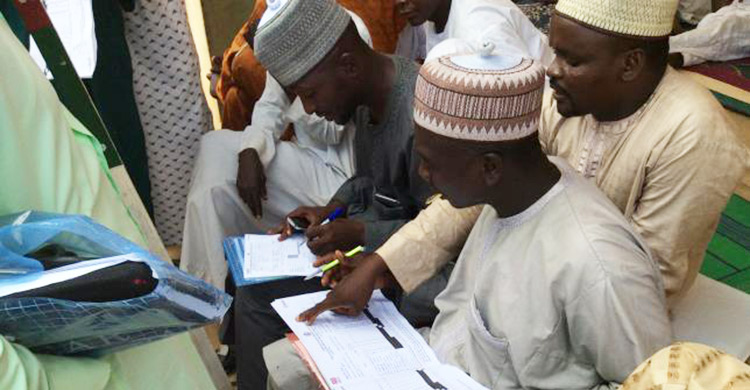 A Sightsavers project in Nigeria has been awarded a grant of US$50,000 from the Sabin Vaccine Institute's END7 campaign to help tackle neglected tropical diseases (NTDs).
The grant will have a significant impact on the future of communities in Kebbi State in Nigeria and enable Sightsavers to get one step closer to eliminating five NTDs in the state.
NTDs can have a horrifying effect on people of all ages. Symptoms of these devastating diseases include kidney disease, blindness, malnutrition, anaemia and even death. NTDs can stop people from working, living independently or even from getting an education. Many symptoms can be alleviated through treatment and stronger health systems.
END7 is an international advocacy campaign that's seeking to raise the awareness and funding needed to control and eliminate the seven most common NTDs. The campaign is managed by the Sabin Vaccine Institute and has mobilised a diverse and growing community of supporters from countries around the world, dedicated to supporting the fight against these diseases.
Sightsavers' Kebbi State NTD elimination programme is targeting the elimination of five devastating NTDs including schistosomiasis, soil-transmitted helminths, trachoma, river blindness and lymphatic filariasis. With END7's support, Sightsavers is working with the Federal and Kebbi State Ministries of Health to train more than 1,000 primary health workers and more than 7,000 community volunteers to undertake mass drug administration (MDA) that will help protect nearly 6 million people in some of Nigeria's poorest rural communities.
END7's funding will also support the training of 355 teachers to manage school-based MDA to protect children from schistosomiasis. Sightsavers is collaborating with the Kebbi State Ministry of Education to prepare schools and teachers to get treatment to all enrolled school children.
This work is already beginning to impact Nigerians, including Manir Mamuda, a 15-year-old boy who lives with his parents in the region. Manir is training to become a carpenter, but for the past year Manir suffered from the symptoms of schistosomiasis. Despite seeking help from a traditional healer in his community, his symptoms did not improve.
Luckily, Manir heard about the free treatment being distributed at his local school during a community awareness event. He decided to visit while treatment was being distributed and received treatment he needed.
"I was measured with a tape and given four tablets of the drug, which I took immediately," said Manir. "After one week, I stopped seeing blood in my urine. The medicine is good because it has helped me and I am happy. I hope to continue to take it. I feel very well now and can comfortably learn the carpentry skills I need to earn a living."
Sightsavers' Nigeria Country Director Sunday Isiyaku has also seen the positive impact of these services in communities across the country. "Thanks to Sabin's END7 campaign in 2016, we are able to protect the most vulnerable communities in Kebbi state from these painful and disabling diseases. The project will reach people, including women, the elderly and people with disabilities, that usually cannot find their way to health centres to access health services. By using community outreach and door-to-door approaches, our health workers and community volunteers are going the extra mile in reaching these groups."
"Sabin has a proud history of vaccine advocacy, and we are pleased that we can further this mission through our recent grant to Sightsavers in Nigeria," said Amy Finan, CEO of the Sabin Vaccine Institute. "In a region where more than five million people are at risk of contracting an NTD, Sabin's grant will enable Sightsavers to fill a gap in the current health system by providing efficient, cost-effective control efforts. This project has the potential to improve quality of life for millions of Nigerians, and I look forward to following its impact in the months and years ahead."