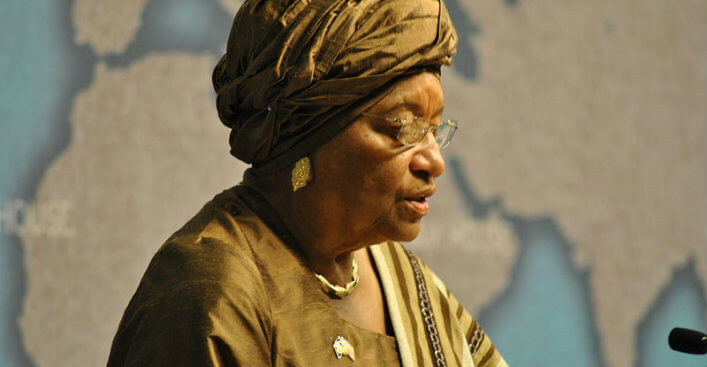 Liberian President Ellen Johnson Sirleaf has expressed her appreciation for the work of Sightsavers, Lions International and PREVAIL at the opening ceremony of the International Agency for the Prevention of Blindness in Durban, South Africa.
In her keynote speech she spoke of the "many challenges still remaining" to improve Liberia's health care system as the country recovers from the recent Ebola epidemic and 14-year conflict.
"Nearly two decades of civil war destroyed the entire health system in my country, Liberia," the President said. "Just when the system was recovering from emergency status and on the path to normal development, the catastrophic Ebola outbreak disrupted our sub-region.
"As a nation recovering from war and the pandemic outbreak, we lack national plans to address eye care in a sustainable way since we face myriad other challenges that sometimes take a higher premium over eye health.
"We realise however that providing eye care services to address visual impairment is an important dimension of our desire to build a comprehensive primary health care system."
She then praised the work of Sightsavers and other international organisations working in Liberia by saying: "We are pleased with ongoing collaboration with local and international partners such as Sightsavers, Lions International, and PREVAIL."
The President then finished her keynote speech with a rousing call to action to everyone attending the event: "Liberia applauds all of you in this room for the tremendous efforts you continue to make to achieve these goals. For the partnerships you promote… for your own effort to ensure that those people who walk the streets in our countries with a cane and a child that helps them, for the many young children who lack a simple thing like eye glasses that might improve their ability to learn… to all of you and all that you do, we applaud you!"
Sightsavers has been working in Liberia since 2000 to eliminate river blindness and recently, lymphatic filariasis. We continue to work with the National Eye Health Program of the Liberian government to eliminate avoidable causes of blindness and promote inclusiveness in the educational systems for persons with disabilities including those with visual impairment.
More recently Sightsavers has worked to ensure affordable eye care services to Ebola survivors and residents within the catchment area of Monrovia's Redemption Hospital Eye Clinic and through the construction of Eye Infrastructure in Grand Gedeh.
Watch Liberia's President Ellen Johnson Sirleaf's speech in full, which begins at 14 minutes and 45 seconds into the video.
President Ellen Johnson Sirleaf's keynote speech at the 10GA Opening Ceremony from IAPB.
About the IAPB General Assembly
IAPB's 10th General Assembly (10GA) is the premier global event discussing public health issues related to blindness and visual impairment. It took place from 27 – 30 October 2016 in Durban, South Africa.