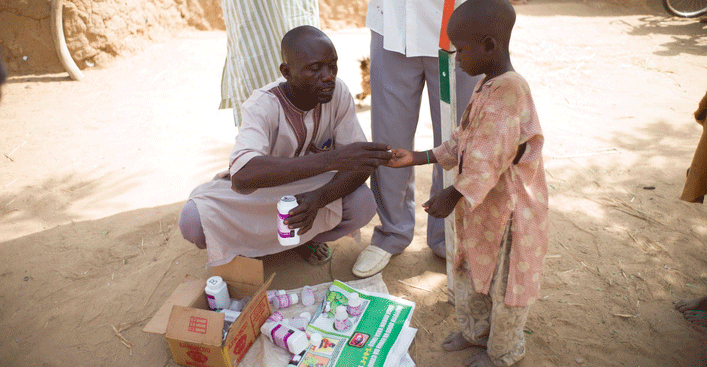 Sightsavers and its partner Crown Agents have received an award for their work in making sustainable improvements to the way treatments are distributed to combat neglected tropical diseases (NTDs) in Nigeria.
The award was presented at the Logistics & Supply Chain's Supply Chain Excellence Awards for Sightsavers' and Crown Agents' work in northern Nigeria as part of the UNITED programme.
The ambitious UNITED programme, funded by UK Aid, is working to eliminate neglected tropical diseases in northern Nigeria, increasing treatment availability for seven disabling NTDs. Sightsavers is leading a consortium of partners aiming to deliver 112 million treatments by September 2017, protecting 22 million people against devastating diseases including blinding trachoma, river blindness and lymphatic filariasis.
Supply chain specialist Crown Agents has been working with Sightsavers to ensure the treatments reach the people that need them as efficiently as possible, making drugs available in the right quantity in the right place at the right time; with staff trained to receive, store and disburse drugs.
The model developed by Sightsavers and Crown Agents has now been adopted for use across the whole of Nigeria.
The programme won the award in the best Public and Third Sector category, and was also shortlisted for the Overall Award. The awards are in recognition of organisations around the world that demonstrate excellence in their supply chain operations.
Tom Millar, NTDs Operations Director at Sightsavers, who collected the award at the ceremony in London, said: "Working with Crown Agents has enabled us to increase the number of treatments we can deliver to protect people in Northern Nigeria against NTDs, such as river blindness, trachoma, schistosomiasis and lymphatic filariasis. This is making a huge contribution towards the elimination of NTDs, and is leaving a legacy on the National NTD Drug Supply Chain Landscape in Nigeria."