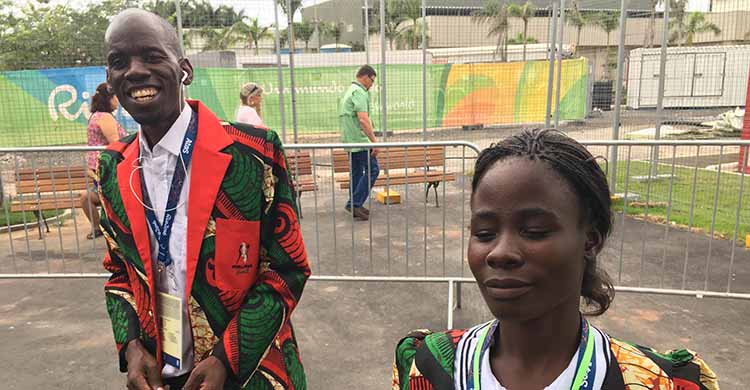 Taonere Banda created history in Rio this year by being the first and only Malawian to compete in the Paralympics.
After the excitement of the opening ceremony and once Taonere's race was complete, we spoke to Taonere and her coach George as they reflected on their life-changing experience and what the Paralympics has meant for them on a personal level, as well as for Malawi.
How does it feel to be the first Malawian to have represented and ever competed at the Paralympics?
Taonere: I feel great because I am the first Paralympic athlete to be in such a big competition and I have learnt a lot. I want to share what I have learnt here with my fellow athletes in Malawi.
How will you describe the experience of having been in Rio to people when you return to Malawi?
Taonere: I will explain to my friends back in Malawi about the beauty of Rio, about the beauty of the Atlantic Ocean, about the good sand beside the ocean.
How does it feel to be part of the Paralympics, surrounded by other young athletes with all kinds of disabilities?
Taonere: I have learnt a lot being here in Rio especially at the Paralympic village. I didn't even know before there were different types of disabilities, I thought maybe I was alone so I have learnt a lot and I will share and encourage the people out there about the good thing to do.
How have people responded to you and what is it like getting recognised in public places. Do you feel like a bit of a celebrity?
Taonere: A lot of people are encouraging me, saying positive things and saying that I've done better than I did, and a lot of people are encouraging me to work hard on other competitions.  I feel like a celebrity because almost everywhere I go people say 'this is the chap we saw on TV, this is the chap we saw on TV', I am now known worldwide!
And if we go back to the event itself, we saw you running so fast ahead of all your colleagues…
Taonere: During the race I started very fast because I was confused, I just noticed I was ahead of everybody.
Only about one lap before the end was the first moment you were overtaken and as a viewer, it seemed that really affected you, I want to ask, what was happening in that moment when the first runner went past?
Taonere: It was so painful to me that when the first runner had to pass on me, I had to keep on working not knowing the second runner was also coming to pass then the third… I end up being the last man so it was so painful to me.
What would you have done differently if you could do it again? What did you learn?
Taonere: For next competitions, I have learnt to start slow and finish with the fast pace.
And now that you are the only athlete in Malawi that has this kind of experience at such a big international prestigious event, what advice would you give other Malawian athletes to help them prepare for such an event? 
Taonere: I would like to say sorry to the people back in Malawi, to the sponsors and that what I have done should not be repeated by other athletes, I would advise those other athletes that they should only listen how to start and finish the race.
How are you feeling about going back home?
Taonere:  I am looking forward to seeing home because I have stayed long time in the camp and here so I am itching to see people out there…I feel like talking to my son (Ernest) because I have really missed him. I will go to Ernest as soon as I get home.
What drives you to do all of this?
Taonere: I will always love to raise the Malawian flag, and for the days in the camp  I get an allowance which I use to buy commodities for home use.
When we were in Malawi, when we went to your old school in Nkhotakota, you were very good at talking to the children. You were telling them that they can do anything they want and that they shouldn't let disability stand in their way. What's your message to all the children now after your experience in Rio?
Taonere: When I go back to Malawi, I will keep on encouraging the youth and say that having a disability is not the end of everything and I will encourage them to get involved in different sporting activities so they will also have the opportunites I have had.
And what would you like your influence to be, how would you like to influence people in Malawi?
Taonere: It's easier for the people with different disabilities back home to cope because a school for disabled people has just opened in my village so from here we will go and talk to the head teacher of that school on the need to promote disability sport.
George, what was it like at the opening ceremony?
George: In the first place, I could not believe it! I was dreaming, in the stadium I could see everything was covered, all the seats were covered with people waiting to see great people from different nations. I can say I was part of great people and representing Malawi. So, to me, I was very grateful to be among these people, to be among the big people, the very big nations, moving shoulder to shoulder and parading during the opening ceremony.
What do you see as the future for disability sport in Malawi?
Well, as a coach, I'm delighted that for the first time, I have come across different sporting events that I have never seen before in my life. I was shocked all the time. Looking, everywhere, I see a different sporting activity taking place. That's why I always found myself in the gym with the other coaches asking them…how do you do it?
In Malawi, we have the personality, the only thing that we did not have, may I say the knowledge… but we have got different sorts of disabilities, here all of them are involved in different sporting activities. I will make sure I interact with the different organisations so that each and every physically disabled person is taking part in a Paralympic sport.
You can see some of Taonere's Rio highlights on our Paralympics page.