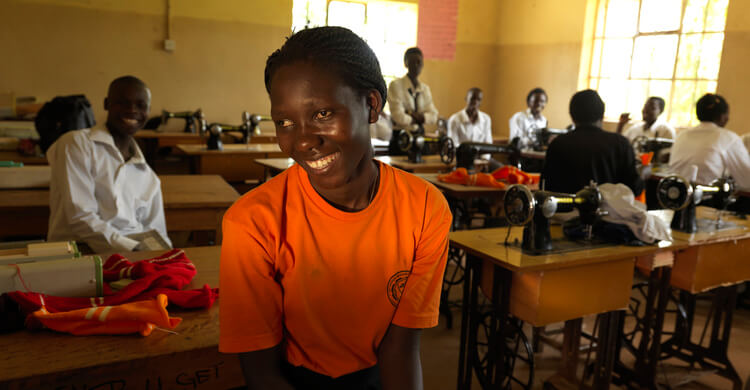 Sightsavers has welcomed the commitments made by the UK government in two major reviews setting out its priorities for international development.
The reviews, Raising the standard: The Multilateral Development Review 2016 and Rising to the challenge of ending poverty: The Bilateral Development Review 2016, were unveiled by International Development Secretary Priti Patel on 1 December 2016.
Sightsavers highlighted the pledge to strengthen the work of the Department for International Development (DFID) on disability, and to establish the UK as the global leader in this neglected and under-prioritised area.
"We are delighted that the UK has committed to show leadership on speaking out on disability as a priority issue, through the department's plans to 'leave no one behind'," said Sightsavers' CEO Caroline Harper.
"DFID has set an example with its Disability Framework, and is well placed to lead and influence others in policies and programmes to ensure that inclusive – and therefore more effective – development becomes a reality.
"In the 10th year of the United Nations Convention on the Rights of Persons with Disabilities (UNCRPD), it is particularly important that the UK government reaffirms its commitment to disability-inclusive development, so this is extremely welcome."
In the reviews, the Secretary of State has set out a number of development priorities, including strengthening the department's work on disability.
"Even where disability is not directly referenced, Sightsavers and our partners believe our priorities are central to achieving the Secretary of State's ambition to deliver more effective development," said Dr Harper.
"Inclusive development is more effective – and we can work with DFID to deliver it," said Dr Harper.
She also hailed the commitment to continue to lead international action to tackle neglected tropical diseases, where the elimination of diseases such as blinding trachoma is possible within the lifetime of this parliament.
"It is important that DFID has framed the review in the context of the 2030 Agenda for Sustainable Development," said Dr Harper.
"The UK is the first G7 country to meet its commitment to invest 0.7% of Gross National Income to development.  We are looking forward to working alongside DFID and all our partner organisations to eradicate extreme poverty by 2030, in line with the Sustainable Development Goals, and to ensure this work is inclusive of the most marginalised people, including those with disabilities and those affected by neglected tropical diseases."