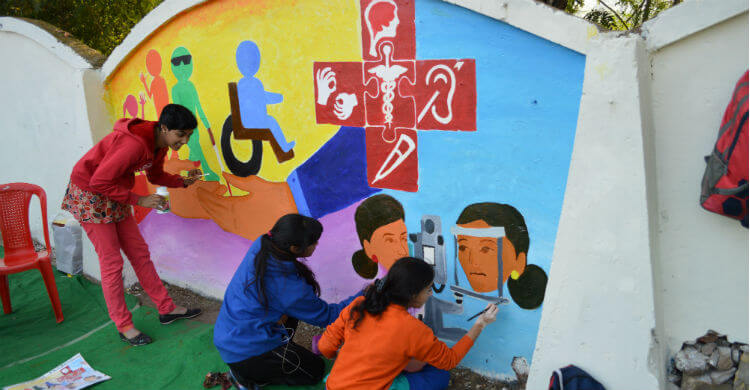 Sightsavers has boosted the profile of its Inclusive Eye Health initiative being piloted in the Indian city of Bhopal with two events that made a splash with the media.
Sightsavers India, working with Bhopal's Sarjana Academy for Design and Fine Art and the Madhya Pradesh Disability Network, and with the support of the development agency AARAMBH and the city's JP Hospital, came up with the idea of creating murals promoting equal access to health, education and employment for people with disabilities and boost the profile of its Inclusive Eye Health initiative.
The murals, painted by teenage art students and incorporating messages calling for equality from the Disability Network, contributed to the events celebrating the International Day for Persons with Disabilities, which falls on 3 December.
Media including local television stations and the Times of India reported on the creation and inauguration of the murals. The coverage helped to spread the message that people with disabilities are equal citizens, and barriers to their participation in society should be removed.
As the young artists were busy painting, in another part of town Sightsavers and its partners, the development agency AARAMBH and Sewa Sadan Eye Hospital, collaborated with World Vision India to organise an eye screening camp for children and adults with disabilities in one of the city's informal settlements, or "slums" as they are known in India.
Scores of people with their children came from the local area, and by specially provided transport, to have their eyes tested in a mobile clinic. On the day, 66 people were seen.
Eight were referred to Sightsavers' primary vision centres for refraction, five were referred to Sewa Sadan Eye Hospital for cataract surgery, three for corneal opacity and squint, and seven were prescribed spectacles, with people on low incomes getting free treatment and glasses.
State Minister Shri Vishwas Sarang thanked Sightsavers and its partners for the initiative. Sightsavers' social inclusion and disability adviser Andrea Pregel was able to thank the Minister in person for his support and give interviews to local TV. He explained how the pilot aims to create a model for inclusive eye health services that can be replicated and scaled up in other areas and countries where Sightsavers works. In the years ahead, health authorities and providers could incorporate it in their work.
As one of the mural messages from the Madhya Pradesh Disability Network said: "People with disabilities are equal citizens – let's celebrate unity in diversity."