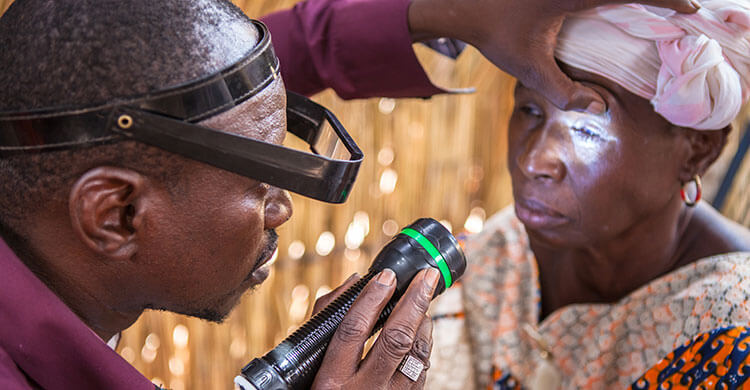 The Conrad N. Hilton Foundation has boosted its commitment to tackling neglected tropical diseases (NTDs) with new grants to help wipe out trachoma in Mali and Niger.
The funding was announced during the World Economic Forum annual summit, which took place in January in Davos, Switzerland.
Sightsavers, which has been working to combat trachoma in Mali for 12 years, is to receive a grant of $650,000 to help eliminate trachoma in the Koulikoro region of Mali over the next three years.
Trachoma, a neglected tropical disease, is the world's leading infectious cause of blindness. It affects millions of people in the world's poorest communities where there is a lack of access to clean water and sanitation. Trachoma is spread from person to person through contact with contaminated hands, fabrics and eye-seeking flies, and repeated infection can eventually lead to blindness.
As well as supporting more than 1,000 surgeries to reverse the advanced stages of the eye disease, Sightsavers will work with local partners to educate the communities about trachoma, as well as teaching them about water and sanitation practices to help prevent the disease. These lessons will be delivered through radio messages and training for women's groups, community leaders and health workers, who will then distribute the messages in their own communities.
Working in collaboration with partners Helen Keller International and the Carter Center, the grants from the Hilton Foundation should help the country to reach its goal of becoming free from trachoma by 2020.
Antandou Telly, NTD programme manager for Sightsavers in Mali, said: "The new partnership is the final push in a long journey to eliminate trachoma. It means our communities will finally be free of this painful and blinding disease."