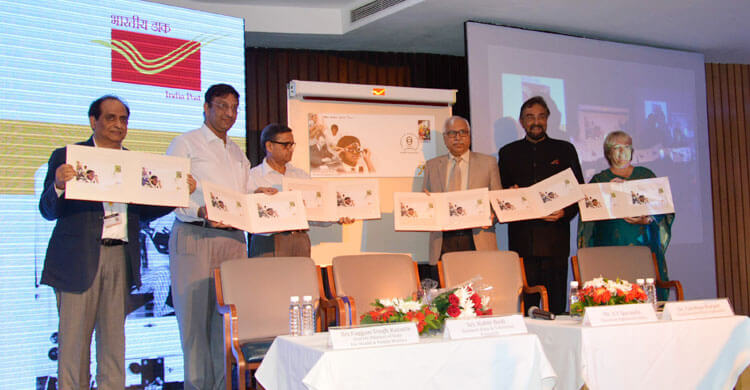 Sightsavers India, founded by Sir John Wilson in 1966, has celebrated 50 years of successful achievements with a golden jubilee gala to showcase its pioneering work.
The gala welcomed a host of dignitaries, programme and corporate partners, as well as volunteers, members, stakeholders and Sightsavers beneficiaries.
Guests included internationally acclaimed actor and director Kabir Bedi, Tribal Affairs Secretary Dr Shyam Agarwal and Sightsavers International CEO Dr Caroline Harper (CBE), alongside Sightsavers India CEO RN Mohanty and Honorary Chair Dr S Y Quraishi.
Dr Agarwal released a special publication at the event, entitled Vision of Hope, documenting the organisation's work in the country over the past half a century, while Mr Bedi unveiled a 50-year history wall.
Since 1966, Sightsavers India has reached out to 55 million people with potential eye problems and, as a result, has carried out 36.4 million eye treatments and more than five million eye operations. During 2015-16, the organisation also trained 15,796 teachers to provide classroom support to the visually impaired, and operates in about 100 districts in various states across the country.
Dr Agarwal said: "It's a great pleasure to be a part of this historic moment celebrating the remarkable work done by Sightsavers in India. It was only because of Sightsavers' great efforts and advocacy that India became the first ever country to have the National Programme for Control of Blindness (NPCB). Sightsavers is functioning in about 100 districts of the country, covering major tribal belts where the beneficiaries are tribal population. The ministry of tribal affairs promotes alliances with NGOs for the benefits of the tribal population, and we invite Sightsavers India to align with us to extend the eye health services in the tribal belts of the country."
Mr Bedi said: "I feel truly honoured to celebrate the 50 years of incredible work. Giving is a special act of humanity, and I urge the corporate community to actively participate in sustainability programmes as part of corporate social responsibility to give back to society. Sightsavers can show the way to CSR in the country with its achievements in eye care, as it is a perfect partner for CSR in India."
Addressing the guests at the event, Dr Quraishi said: "I feel proud to be part of this great organisation and among its first national board team. This shift itself signifies the convergence to a focused journey ahead with clear goals and objectives in mind, amplifying the impact in the future. The mission that was started more than five decades ago is forging ahead with renewed enthusiasm to bring sight to many and lighten up their lives with hope. I pay my respect to Sir John Wilson, whose vision had set a course to change the eye health scenario not only in India, but globally."