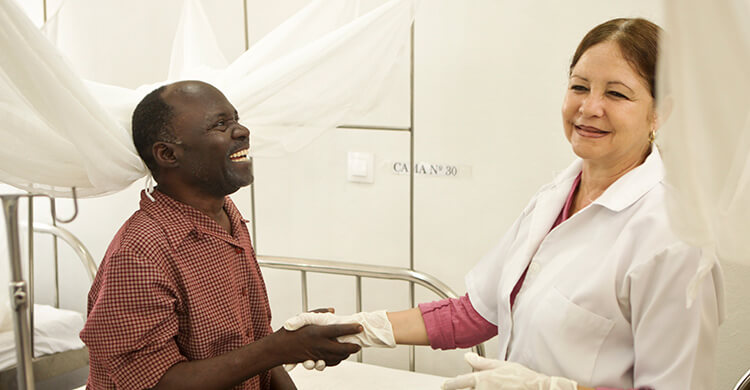 Thousands of adults and children in developing countries could benefit from life-changing eye surgery thanks to a donation from a long-standing Sightsavers benefactor.
The donation, from Gregory Nasmyth, could enable 6,000 children to have sight-saving cataract operations, or allow 200,000 people to be screened for debilitating eye conditions.
Previous donations from Mr Nasmyth helped to fund construction of the new Nampula Eye Clinic in Mozambique, which opened in July 2014. The clinic serves as a vital eyecare hub to treat the 1.3 million people affected by blindness and visual impairment in Nampula province.
One of those treated at the clinic is 63-year-old Mario S'Hora (pictured), who suffered from cataracts in both eyes, leaving him unable to work and reliant on his family for help. A community worker brought him to the clinic, where a cataract operation restored some of his vision, enabling him to see his twin nieces clearly for the first time. "It's like bringing my life back," he said.
"Being sighted is something so many of us take for granted," said Mr Nasmyth. "Knowing that an operation can restore your sight, but not being able to access that help, is almost unimaginable for those of us living with proper healthcare provision. So many people in the poorest countries of the world go blind because of a lack of care and, more importantly, a lack of money. Sightsavers is out there battling that, and helping to restore sight to thousands of individuals."
Yet it's not just large sums of money that can change lives – a donation of £8 could fund sight-saving surgery for someone with trachoma. Meanwhile, a larger gift can transform entire communities in developing countries. See how your major donation could make a difference.