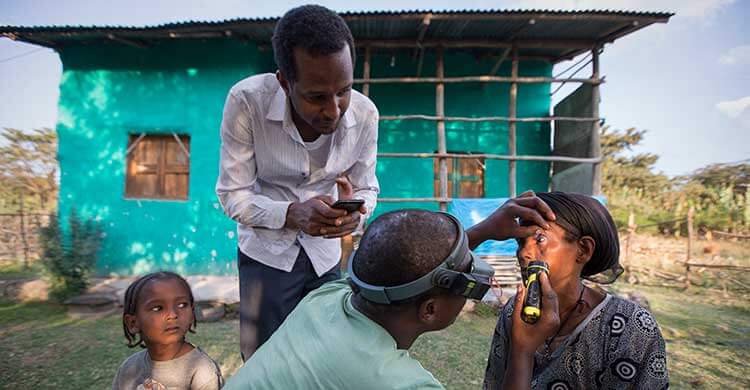 The Global Trachoma Mapping Project (GTMP) has come to an end after seeing hundreds of surveyors collect and transmit data from 2.6 million people in 29 countries.
It's a year since the ground-breaking three-year GTMP came to an end. This has been the largest infectious disease survey every undertaken and has collected data from 2.6 million people using Android smartphones. On average, one person was examined every 40 seconds during the three-year project.
But the mapping of trachoma and the legacy of GTMP lives on in the World Health Organization (WHO)-led Tropical Data initiative, which was launched in July 2016.
Using the same methodology, Tropical Data services support the full survey process, from planning and protocol development through to data management and analysis of the data.
Last month, 200 households from four local government areas in Adamawa state in Nigeria were mapped for trachoma by programme partner Helen Keller International.
Three-year-old Mohammad Salihu Shuaib, who lives with his parents and two siblings in Gerei community, was found to have trachomatous inflammation (TF) in both eyes, signalling the early stages of the infectious eye disease. He was given antibiotics to clear the infection.
Seven-year-old Aisha Lawan, from nearby Daneyl community, was examined by an ophthalmic nurse in her house and was diagnosed with TF in both eyes. She had been suffering from eye infections for the previous six months, so the mapping team referred her to the nearest state clinic. There she was given antibiotics, which her mother now applies twice a day.
At present the Tropical Data initiative is under way, fully approved or poised for approval in 190 districts across 14 countries, with 100 more districts in the pipeline. So far, more than 415,800 people have been examined and 12.2 million pieces of data processed through the initiative.