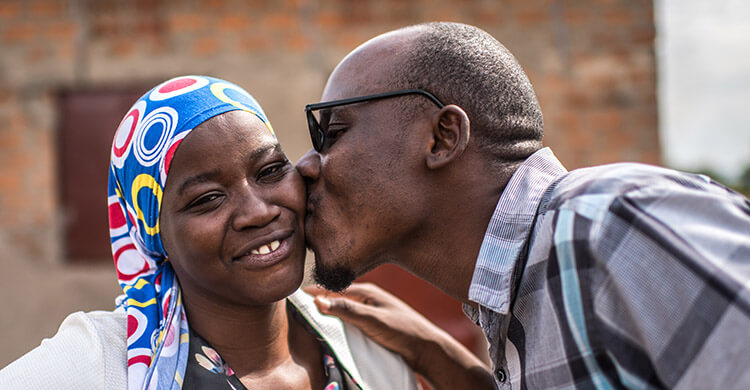 Finding true love isn't easy. For Najiiba and Julius, two students of Sightsavers' Connecting the Dots programme in Uganda, it seemed almost impossible because of the stigma they faced due to their disabilities.
However, love blossomed thanks to the EU-funded programme, which trains young people with disabilities, giving them essential skills so they can gain employment. To mark Valentine's Day, the couple share the story of how they met and give some advice for others looking for love.
Julius and Najiiba's story
Najiiba was born with one leg shorter than the other and wears a built-up shoe. This meant her confidence was often undermined and she lived with a sense of fear. "It's not easy to move without this shoe," she explains.
Her job as a school teacher was difficult because of the stigma she faced in the classroom. "I used to go in the class and see children looking at me – I felt ashamed."
Najiiba had been hurt by past relationships and had lost hope of finding true love. "I didn't think I could have a husband. I thought: who would date me? Because of my leg, people minimise us – they lower your dignity."
Najiiba's life changed when she heard about Sightsavers' Connecting the Dots programme on the radio. With her parents' blessing she left her teaching job and became one of the first students to enrol. Learning to use computers and the experience of meeting other students with disabilities was transformational.
"I got courage, I got hope, I believe in myself," she says. "Now I am someone – I no longer have that fear in me."
It was on this course that Najiiba met Julius, who lost his sight as a result of a head injury sustained in a motorbike accident. Before the accident Julius worked as a computer repairer, as well as for a paint company.
"She was beautiful! Her acts, the way she treated me – that's what first attracted me."
When asked about how she first met Julius, Najiiba laughs. "I did think he was handsome when I first saw him," she says, though is clear they were only friends at first.
Like Najiiba, Julius had faced many barriers because of his disability. "Life was so hard – so, so hard," he says. "For a full year I stayed in the house. I was the only blind person in the whole village. I had never really met someone who was blind before. I didn't believe I could get a job or get married. Other people didn't believe it either."
Julius describes how he felt when he first met Najiiba: "Wow, wow, wow! She was beautiful! Her acts, the way she treated me – that's what first attracted me.
"At school we were friends. I remember the first time I had no one to guide me, and she came and guided me."
They used to sit and talk as friends as Najiiba would help to wash Julius's clothes.
"I used to think about him as a friend in that time. But I hadn't thought about marriage," Najiiba says. "We became friends and we left school, then started to communicate. In the end – things changed!" she giggles.
After they graduated, a year passed and they lost touch. Julius had a job knitting in Ugandan capital Kampala, while Najiiba was working in Hoima, 125 miles away. However, with his new job under his belt and after realising what people with disabilities could achieve, Julius had found the confidence he needed. "I got the courage to ask her to marry me because of the support I got at school," he explains.
A new life together
The couple have managed to acquire some land and build a small home in Masindi. They have had a child together and Julius now repairs and sells knitting machines. They are already using their experience to help other students with disabilities and hope to form a support group in the future.
"I am blind, she is lame – we support each other," says Julius. "We are all people with disabilities and we are married, we are one. If she has a problem it's like I have a problem, and when I have a problem it's like she does."
Valentine's Day advice
The couple's biggest tip is not to rush. Julius says: "I was searching for someone who could manage me. If you want to marry someone, let them first be your friend."