Sightsavers has launched its annual Specs Appeal eBay auction, giving fans the opportunity to bid on specs donated by celebrities including Michael Caine, Cher and Liam Gallagher.
Fancy owning a pair of spectacles belonging to your favourite celebrity? Now's your chance. Visit Sightsavers' Specs Appeal 2017 auction.
The auction, which takes place from Thursday 3 to Sunday 13 August, will raise money to help Sightsavers continue its work to prevent blindness and visual impairment in some of the world's poorest countries.
Many of the famous faces taking part have included a personalised message with their glasses. Bill Nighy's handwritten note accompanying his Clubmaster-style specs says: "These glasses were worn in 'The Girl in the Café', one of my favourite films. They have special powers beyond just allowing you to see where you're going."
Geordie Shore star Charlotte Crosby, who has donated a pair of aviator sunglasses, sent a note that reads: "I take my sight for granted. The loss of it is unimaginable. For that reason I am supporting the amazing work Sightsavers are doing in countries like Nigeria." And racing driver Mark Webber's sporty sunglasses are accompanied by an inspiring message: "I love the view from the top of Aspen mountain! Enjoy all your views!"
Other famous faces taking part include Annie Lennox, Lewis Hamilton, Ella Eyre, Kate Moss and Sarah Jessica Parker.
The money raised from the auction could help the millions of people in developing countries who need glasses, yet a lack of ophthalmologists, a shortage of equipment or simply a lack of money often means they cannot get the help they need. Without glasses, they're unable to see clearly, which affects their livelihood, their education and their quality of life.
To change lives, we need your help. To be in with the chance of winning a pair of celebrity spectacles, visit Sightsavers' Specs Appeal auction. Happy bidding!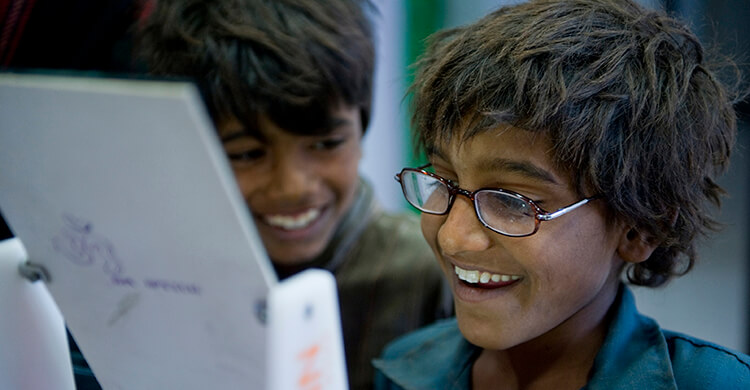 Helping children like Saukat and Liakat to see clearly
The money raised from the Specs Appeal auction could help children such as eight-year-old Saukat and 10-year-old Liakat. The brothers live in a poor area in northern India, and are from a large family: among the eight children, seven have visual impairments, but their parents can't afford to pay for sight tests and none of them have ever been to school.
As part of a nationwide programme to provide eye care for underprivileged families, Sightsavers worked with its local partners to arrange for the children to have their eyes tested. As a result, Saukat and Liakat were both given spectacles, and were enrolled in school. The brothers now dream of becoming teachers when they grow up, and tell Sightsavers that their new spectacles "are a gateway to our new, bright world".