Amid the COVID-19 outbreak, Sightsavers would like to reassure supporters that we are monitoring the situation closely, and doing everything we can to protect our staff and the communities in all the countries where we work.
"The world is facing an unprecedented situation and things are changing rapidly. Sightsavers is working hard to protect our beneficiaries, partners and employees in the immediate and longer term.
Our supporters are a vital part of the work Sightsavers does. We realise at this time there are many pressing concerns in everyone's lives and we want to reassure you that we value your ongoing support and will be doing everything we can to ensure the people who need your support receive it.
The global situation is changing very rapidly and we are planning for different eventualities. We will follow the guidelines in each location where we work and we are working closely with our partner agencies around the world to make sure we continue to deliver our projects in the most effective and safest possible way.
We have closed our European offices and most Asian offices, and will continue to follow the advice in various countries as things evolve. We are also minimising international travel in order to avoid spreading the virus. We have strong infrastructure and systems in place, all of which have been tested to ensure we can manage when our staff have to work from home. We are confident that we can keep things running during this difficult time. However, as you can imagine it may take us a little longer than usual to respond to queries and process donations.
At the moment it is impossible to say what the future impact on our programmes will be particularly as the virus spreads across Africa. We are working closely with our partner agencies and the government ministries around the world and at the moment our programmes continue as normal. We have a strong focus on improving access to clean water, educating communities on how to keep hands and faces clean and strengthening health systems as a whole, which will be even more vital as COVID-19 spreads. People with disabilities are often left behind and we will be doing our utmost to prevent that from happening.
We are prepared to put our resources at the disposal of all the countries where we work in the event they have major outbreak of the virus, as we did during the Ebola crisis in West Africa.
We are monitoring the situation closely and will provide updates when we have more information.
Sightsavers couldn't do the work we do helping vulnerable people in some of the world's poorest countries without the support of all our loyal supporters. We hope that you will continue to support us through this uncertain period, to make sure that we can keep helping those who need us.
Finally I would like to wish you and your loved ones good health through the coming weeks, and hope that we can all resume our normal lives soon."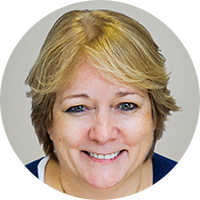 Caroline Harper
Caroline is Global CEO at Sightsavers, a role she has held since 2005. In 2015 she received a CBE for services to people with visual impairments.