Please note that this event has now taken place.
Globally, the number of people with disabilities who are unemployed is disproportionately high compared to people without disabilities. In some low and middle income countries, the unemployment rate for people with disabilities is estimated to be as high as 80 to 90 per cent – at least twice as high as the rate for people without disabilities.
We're interested in the practical changes employers can make to train, hire and provide meaningful work for people with disabilities. That's why Sightsavers, as part of the Inclusive Futures initiative funded by UK aid, is hosting a Twitter chat to bring together disability and development experts, employers, employees and job seekers – with and without disabilities – to discuss how we can build back our workplaces inclusively.
This is an opportunity for us all to showcase inclusive practices, as well as discuss the challenges around recruitment, training and creating accessible workplaces.
Joining instructions
At 2pm, introduce yourself and let us know you've joined.
Look out for the questions from @Sightsavers_Pol Twitter account every 10 minutes – these will be posted as tweets beginning with 'Q1', 'Q2' and so on. To respond, hit reply to the relevant tweet and begin your answer with, for example,  'A1', 'A2' at the start. If your answer is split over a couple of tweets, you can thread them together by replying to your previous post.
Don't forget to include the hashtag #InclusiveFutures.
Questions
If you would like to prepare in advance, here are the questions we'll be tweeting on the day:
Q1: What does it mean to have accessible workplaces for people with disabilities and for employers?
Q2: What do we as employers and society lose by not actively including people with disabilities in the workplace?
Q3: Let's learn from each other: share an example of good practice promoting accessibility in the workplace from your company or organisation.
Q4: What are we learning about working from home and the barriers and opportunities for people with disabilities?
Q5: What lessons can employers draw on to help them reopen as inclusively as possible post pandemic?
What if I couldn't make it?
If you weren't able to tune in live, we've put together a highlights reel with key moments from the discussion.
Twitter chat host
---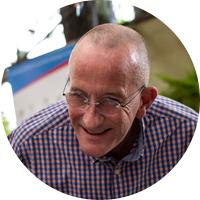 Simon Brown
Simon is Sightsavers' global technical lead for economic empowerment and will be leading the Twitter chat from @Sightsavers_Pol.
He is a key adviser on the Inclusive Futures initiative, working closely with partners and employers around formal employment opportunities for people with disabilities.