We watched as heads of state, former prime ministers, heads of religion and other dignitaries – including holders of bravery medals such as the George Cross and the Victoria Cross – made their way to their seats. Then the pageantry really began, with the Yeoman of the Guard, heralds and many others, all in incredible finery, processing past us. Unmistakeably British tradition in all its glory.
At last the moment all had been waiting for, as the coffin of the Queen was carried past us by some unbelievable strong young men – the Imperial crown on top glittering in the light coming in through the windows. The family were next – grief etched on their faces, slowly walking down the centre of the nave, carefully avoiding the grave of the unknown soldier as they came.
As for the service itself, it is the sublime singing from the choir that will remain with me. It was an instinctive reaction to close my eyes and just feel the music soothe the soul – it was stunning, and did indeed sound like flights of angels singing the Queen to her rest.
I shall also remember the trumpeters playing the Last Post and Reveille, many standing high above us on the quire screen, wearing their bearskins, before we all belted out 'God Save the King'. Finally we remained standing while the poignancy of the piper's lament led us to the final procession and goodbye.
This was a privilege and an event I will remember all my life. I was there to represent Sightsavers to honour our departed patron, on behalf of the people we serve, the supporters who make this possible and all our staff across the world.
May she rest in peace and rise in glory.
Long live the King.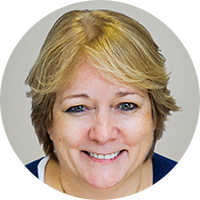 Caroline Harper
Caroline is Sightsavers' global CEO, a role she has held since 2005. In 2015 she received a CBE for services to people with visual impairments. More about Caroline