Taking a look at how supporting children can have a dramatic effect, one example is the Sightsavers' School Health Integrated Programming (SHIP) project which was developed to demonstrate how schools can be an effective platform to deliver integrated health interventions, including vision screening. Studies in Vietnam and Ghana, for example, showed that the cost to screen a child was around $1.50, and to correct any refractive error was $230. That's $230 to change a life (and boost the economy!)
Education can be very visual, meaning children with vision impairment can be disadvantaged, but research shows that correcting refractive error with properly prescribed glasses results in a greater impact on academic performance than any other health intervention. In one example, a study in China found providing free spectacles resulted in higher mathematics test scores, equivalent to half a semester of additional learning.
In our current reality, COVID-19 has aggravated the health and education landscape. The situation is being exacerbated because the opportunities for many of the most vulnerable children – those living in poor or rural areas, girls, refugees, and children with disabilities – to continue their education have been reduced further. Appropriate access to distance learning solutions is still a dream in many communities and its impact on vision impairment will continue to disrupt the education for many.
The bottom line is that investing in system strengthening to support the billion people who need eye care will benefit individuals, societies and economies alike. Simple, cost-effective and affordable solutions already exist.  Enabling them would contribute to more productive societies, support progress towards universal health coverage and help to ensure that we leave no one behind.
To do this, we need to demonstrate the power and high-impact of action and innovation; we need to generate and use evidence and technology to make sure that the right services are provided, to the  people in need, in the most-effective way. In this time of building back our health and education systems better, let's commit to making this world 'visibly clear' for all – I'm sure we can all raise our glasses to that.
Author
---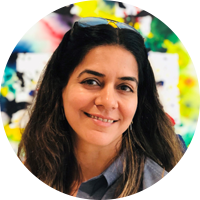 Sumrana Yasmin
Sumrana is Sightsavers' senior global technical lead for uncorrected refractive error. She is currently seconded to the WHO to support its work in that field.
This story was originally published by Thompson Reuters Foundation.