Since the day we met, our many conversations showed me there was life after blindness. Her words gave me courage to carry on at the School for the Blind. Not only did I learn braille, I also decided to dedicate myself to becoming a mentor, just the way Grace had been.
I wanted to empower other men and women with disabilities to claim their equal right to take part in society and find their own ways to stand up against marginalisation.
Taking a stand
If someone had told me then that one day I would hear my name announced as a member of a United Nations committee that upheld the rights of people with disabilities, I would hardly have believed it. But many years later, this is where I found myself.
After years of work, I am in a position to influence for change on an expert committee that advises governments to uphold disability rights, and within a forum that the year before had almost exclusively been occupied by men alone.
I, and many others, felt that getting onto the committee with five other women was not just a victory for us, but also for the principle of equal representation on a UN body charged with ensuring our inclusion in society.
I have come so far, and throughout the journey Grace and I continued to be there for each other. We could converse all through the night when we visited each other, going out for a drink, laughing and sharing stories.
Today, when I call there is no answer from Sister Adwoa, as I affectionately called her. It pains me that as much as I might want her back, Grace is gone. I know there are more blind women that she will never meet, and there are still lessons we will never learn from her.
But the memories remain. Her life contradicted all the images of women with disabilities that we see on a daily basis. That we are sick and helpless. That we cannot learn and work and grow. Every day Grace lived her life, she proved that we can and do.
A powerful legacy
I know her good works cannot be wiped away: not for me or my family, nor from the schools where she championed inclusion; nor from the women's empowerment movement that she stoked here in Ghana.
She campaigned for better representation of women with disabilities in every walk of life. Her voice joined a rising chorus of others around the world who are calling for better representation in the world of work, culture, sport, politics and education.
The legacy of women like Grace can never be wiped away.
Every year, International Women's Day is a chance for women to show they have a voice, aim high and think about who they want to be in this world and how they would like to leave it.
Today I would like to thank my friend, Sister Adwoa, for helping me as a young woman. When some said it was impossible, thank you for showing me it wasn't.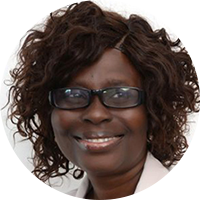 Gertrude Oforiwa Fefoame
Gertrude is Sightsavers' spokesperson for social inclusion in Ghana. She is also one of six female members of the UN Committee on the Rights of Persons with Disabilities.